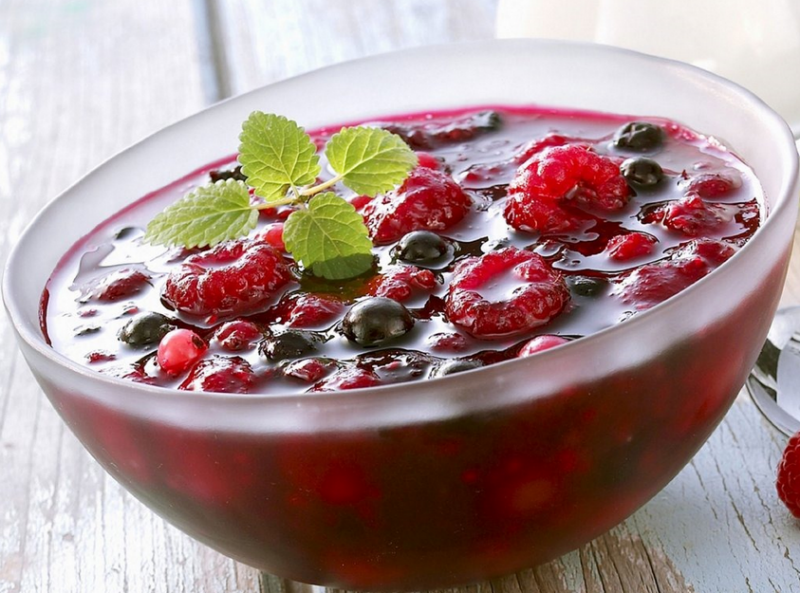 Ingredients
6 cups fresh or frozen, unsweetened berries (raspberries, strawberries, red currants, or a combination of these)
1/2 cup sugar
2 tbsp. cornstarch
1/4 cup cold water
1 tbsp. fresh lemon juice
1 tsp. vanilla extract
Directions
For fresh berries: stem, wash and dry in collander.  For frozen berries: thaw before using.
For a smooth pudding, process berries in a blender, 2 cups at a time, until pureed.
For chunkier, process 4 cups, and chop the rest, blending with puree.
Stir cornstarch in cold water until smooth.
Combine berries and sugar in non-stick saucepan.  Bring to a boil over medium heat, stirring constantly.  Stir cornstarch mixture again, then add into the berry mixture gradually, while still stirring.
Reduce heat and let simmer for 3 minutes, stirring constantly, until mixture starts to thicken.
Remove from heat and stir in the lemon juice and vanilla.
Pour into a serving bowl, or individual dessert bowls.
Cover and chill in the refrigerator for 24 hours.
This is traditionally garnished with a Vanilla Custard Sauce, but you may also use whipped cream, vanilla ice cream, or heavy cream.