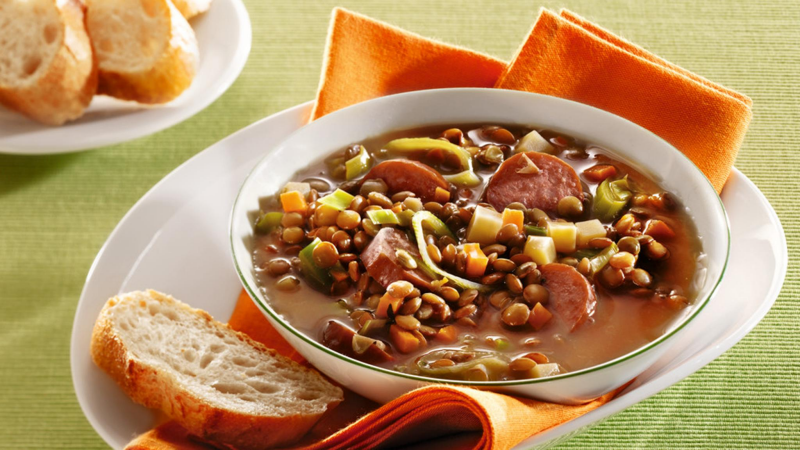 Ingredients
1 tablespoon neutral oil like vegetable or canola
2 small or 1 large onion, chopped (about 1 cup)
1 pound dry brown lentils (Tellerlinsen, if you can find them)
1 teaspoon marjoram
6 cups water
1 leek, cleaned and chopped
2 medium potatoes, peeled and cubed (1 1/2 cups)
2 small carrots, peeled and chopped (3/4 cup)
3/4 pound sausage, sliced (good choices are hot dogs, bockwurst and knackwurst, or dried salami-like
Jägerwurst, also known as hunter sausage)
2 tabelspoons granulated instant broth, chicken, beef or vegetable flavor
1 tablespoon balsamic vinegar
1 tablespoon white vinegar
Coarsely ground pepper
Directions
Brown the chopped onion in 1 tablespoon vegetable or canola oil.
Wash the 1 pound of dry brown lentils under running water and drain.
Add lentils and 1 teaspoon dried marjoram to onions and cook for 1 minute.
Add 6 cups water and bring to a slow boil (do not salt because the sausage and broth you will use later on are salty enough).
Cook for 25 minutes.
While the lentils are cooking, prepare the other vegetables by washing, peeling and chopping 2 medium peeled potatoes and 2 small peeled carrots (1/2-inch cubes for potatoes, a little smaller for carrots).
Add to lentils and cook for 35 more minutes. Add 3/4 pound sliced sausage and granulated instant chicken, beef or vegetable broth.
Season with 1 tablespoon balsamic vinegar, 1 tablespoon white vinegar, or to taste, and pepper.
Salt only if necessary.
Ladle into warmed bowls and serve with hearty fresh German bread like bauernbrot or vollkornbrot.