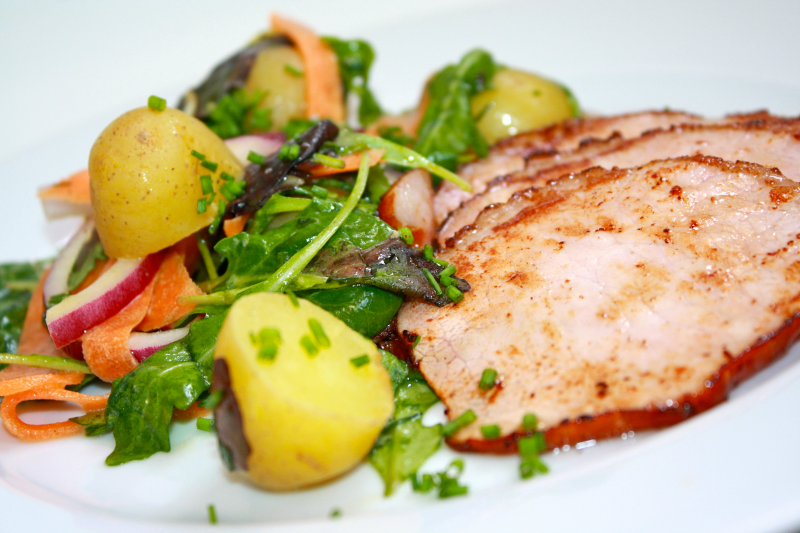 Ingredients
1 can Sauerkraut (approx. 750 gm), drained
1 tbsp oil
1 onion, diced
2/3 cup liquid (broth, white wine, or apple juice)
salt, pepper, sugar (for seasoning)
4 kasseler chops (1 per person)
1 tbsp oil or butter
3/4 cups liquid (broth, or white wine)
1/2 to 3/4 cup coffee cream
2 – 3 tbsp corn starch
Directions
Heat 1 tbsp of oil in a deep frying pan. Add the well-drained sauerkraut and brown. Add the chopped onion and continue browning. Add more oil if needed.
Add 2/3 cup liquid and season with salt, pepper and sugar. Simmer for about 15 minutes. Add extra liquid if needed to keep sauerkraut moist.
In another pan, heat 1 tbsp of oil or butter. Slowly brown the kassler. Remove from pan once browned and warmed through.
Add 3/4 cups liquid to pan that kassler was browned in, scraping up browned bits. Bring to simmer. Add the cream.
Mix cornstarch in a little cold water and slowly add just enough to simmering liquid to thicken for sauce.
Season with salt and pepper. Return kassler to sauce to keep warm.
Serve kassler with sauce and sauerkraut, along with boiled potatoes.