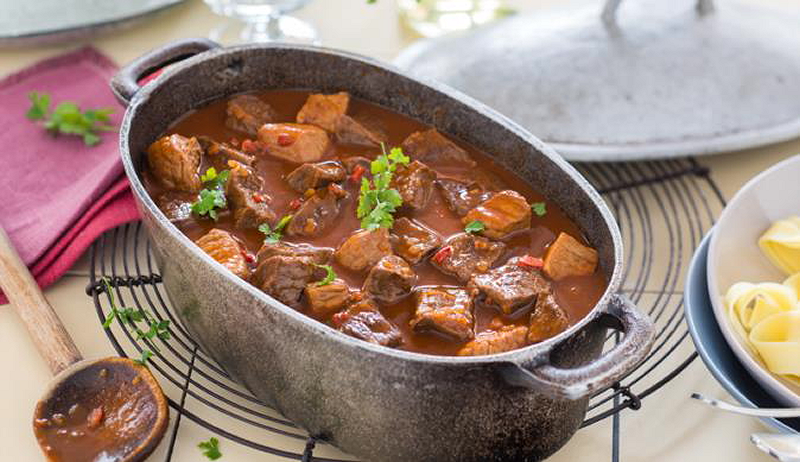 Ingredients
2 tablespoons extra virgin olive oil
4 cups onions, thinly sliced
1 tablespoon sugar
3 garlic cloves, minced
1 tablespoon caraway seeds, toasted and ground
1 1/2 tablespoons sweet paprika
1 teaspoon spicy paprika
2 tablespoons minced fresh marjoram leaves
1 teaspoon minced fresh thyme leaves
1 bay leaf
3 tablespoons tomato paste
2 tablespoons balsamic vinegar
4 cups chicken stock
2 1/2 pounds beef shank, cut into 2-inch cubes
1 teaspoon salt
1/4 teaspoon freshly ground black pepper
Directions
In a large saute pan, heat the olive oil and saute the onions and sugar until caramelized.
Add  the garlic and caraway seed.
Cook for 1 minute.
Add the sweet and sharp paprika, marjoram, thyme, and bay leaf. Saute another minute, until fragrant.
Add the tomato paste. Deglaze with the vinegar and the stock and add the pieces of beef shank, salt, and pepper.
Bring to a boil, then lower to a simmer and cook until very tender, about 1 1/2 hours, stirring occasionally.
Taste and adjust seasoning with salt and pepper. Optional: Serve with Spaetzle, Knödel or Pasta on the side.