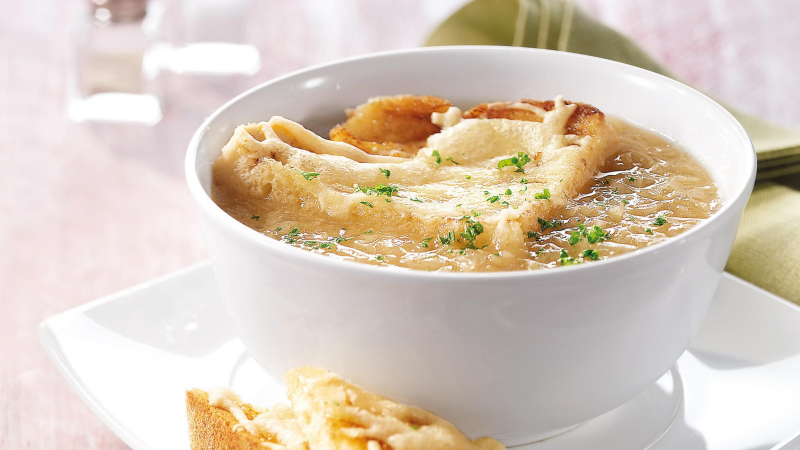 Ingredients
2 cups (4 medium or 2 large) onions, sliced
1 tablespoon butter
3/4 cup dry white wine
1 quart vegetable broth or chicken broth
Fresh thyme sprigs (optional)
Fresh bay leaves (optional)
Freshly grated nutmeg to taste
Freshly ground pepper to taste
Salt, if broth needs it, to taste
4 slices French bread or 1 roll cut into 8 slices
1/2 cup grated cheese, Gruyère or Gouda
Directions
Sauté 2 cups sliced onions in 1 tablespoon butter over medium heat for about 15 minutes, or until they start turning golden brown. Stir occasionally.
Add 3/4 cup dry white wine, then 1 quart vegetable broth or chicken broth. You might want to add fresh thyme sprigs or bay leaf to the soup (but remember to remove them before serving), but this is completely optional. Bring to a boil, reduce heat and simmer for 15-20 minutes.
Grate some fresh nutmeg into the soup and add some pepper. Taste and add salt, if necessary. (With unsalted, homemade broth, I add 1 teaspoon salt.)
While soup is cooking, toast the 8 slices of bread under a broiler or in a toaster oven (or in a conventional countertop toaster).
To serve, scoop some soup into an oven-safe individual bowl, add a slice of toasted bread, sprinkle 2 tablespoons grated cheese over it and put the bowls on a cookie sheet and broil until cheese melts and turns an attractive brown.
Be careful when serving and eating as the soup and the bowls are very hot.
Tip: This is a great soup to make ahead and reheat.