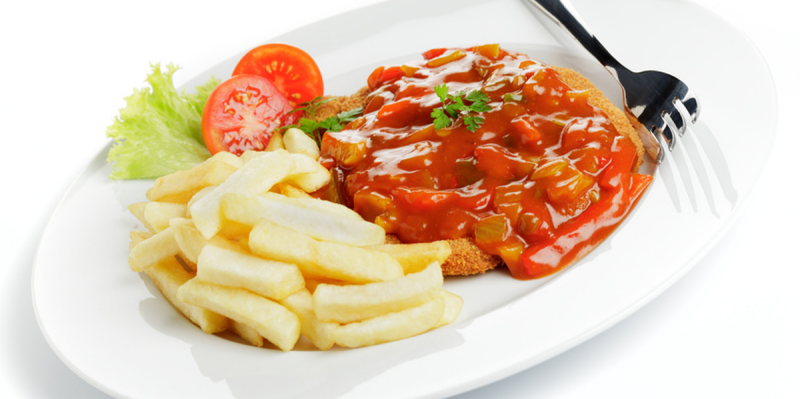 Ingredients
1 1⁄2 lbs pork schnitzels or 1 1⁄2 lbs boneless chicken breasts
1 teaspoon pepper, to taste
1 teaspoon paprika, sweet to taste
1⁄4 cup flour
3 tablespoons canola oil
8 ounces mushrooms, sliced
1 large onion, sliced
1 green bell pepper
1 red bell pepper
1⁄2 cup red wine
1 cup chicken broth
1 (14 ounce) can tomatoes, ground
1 (5 1/2 ounce) can tomato paste
2 teaspoons chili paste
salt
Directions
Place the schnitzel between 2 sheets of wax paper and pound to 1/4″ thickness.
Season the meat with pepper and paprika to taste.
Lightly dredge the meat in flour shaking off any excess.
Heat 2 Tbsp of oil in fry pan and quickly brown both sides of the meat then turn the heat down to medium and fry each side for another 3-4 minutes.
Remove the meat from the pan and keep warm.
Add another Tbsp of oil to the same pan.
Wipe mushrooms clean and slice, then brown them lightly in the pan.
In the meantime finely chop or slice onions and add to pan.
Half and de-seed the bell peppers, thinly slice and add to pan.
Let the vegetables cock for about 10 minutes.
Deglaze with the wine and broth, add the tomatoes, tomato paste and chilli paste and stir until heated through.
Season with salt and pepper to your taste.
Pour sauce over the schitzel.
Serve with home fries or french fries, spatzel,rice or noodles.