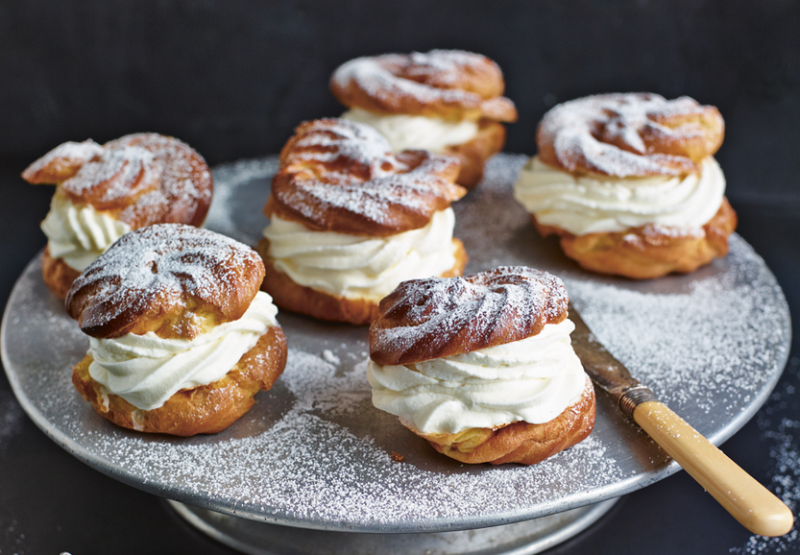 Ingredients
Puffs: 1/2 cup butter (unsalted if you can get it)
1/4 cup water
1/2 cup flour
Dash salt (only if using unsalted butter)
2 large eggs
Filling: 1 cup heavy whipping cream
1/4 cup powdered sugar shopping list
1/2 tsp. almond extract
powdered sugar for sprinkling on top
Directions
Heat oven to 400° (375° if convection).In a saucepan, heat the butter and water to a rolling boil.
Stir in flour (and salt, if using) all at once and beat vigorously about 1 minute, or until a ball forms.
Remove from heat and beat in eggs, 1 at a time, until batter is smooth and glossy.
Drop by 1/4 cupfuls onto an ungreased baking sheet about 3 in. apart.
Bake 35-40 minutes (less if convection) until puffy and golden brown all over.
Cool completely on wire rack.
For Filling: Beat whipping cream, sugar and extract in a deep bowl until fluffy and holds its form well. Keep chilled until use.
Just before serving, split the puffs, remove any damp insides and fill with the cream mixture.
Looks nicest if you use a fluted pastry tube for this.
Place caps back on puffs and sprinkle with powdered sugar; serve immediately.