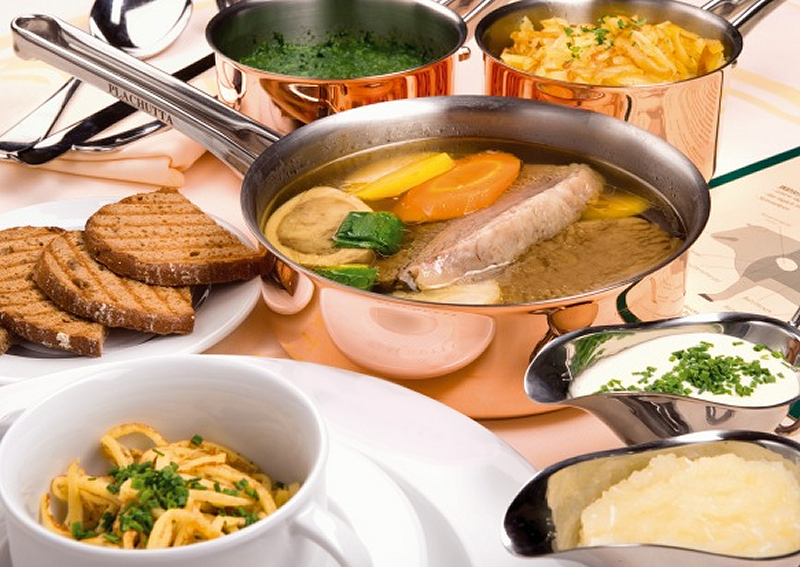 Ingredients
21 oz. beef (for "Tafelspitz")
101 floz beef bone broth
root vegetables (orange carrots, yellow carrots, celeriac root)
pepper corns, bay leaf
Directions
Cook the meat slowly in the beef broth for 1 ½ to 2 hours while adding the root vegetables, pepper corns and the bay leaf. Cut the cooked root vegetables in discs and serve along with it; if you like, add poached beef marrow discs.
Roast potatoes:
Shred potatoes (boiled and peeled one day in advance) using a potato grate. Fry finely sliced onions in hot oil until they turn soft, then add potatoes; salt the mixture and fry it slowly to a crisp while stirring.
Viennese chive sauce:
Stir 3 hard-boiled, strained egg yolks with 2 raw egg yolks, season with salt, sugar and vinegar, add 2 white "Semmel" rolls soaked in milk and strained; then, as when making mayonnaise, stir the mixture while dripping in ca. 8.45 floz (¼ litres) of oil, and conclude by stirring in 2–3 tablespoons of finely cut chives.
Apfelkren (apple horseradish):
Make apple puree from three apples and season this to taste with 3 tablespoons of finely shredded horseradish, salt and vinegar.