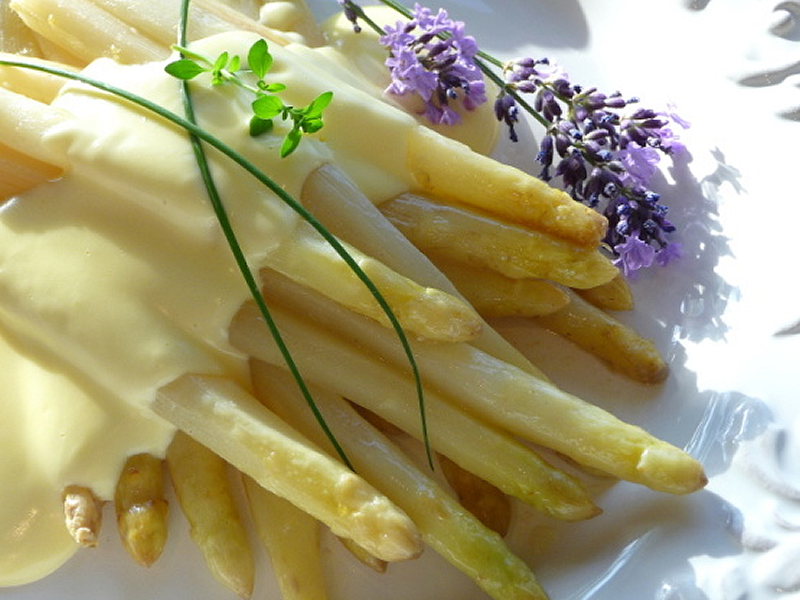 Ingredients
Aspargus:
3 tablespoons extra virgin olive oil (or unsalted butter)
2 lbs white asparagus, washed and trimmed
1⁄4 teaspoon finely chopped fresh lemon zest
2 -3 teaspoons fresh squeezed lemon juice
1⁄2 teaspoon salt
1⁄4 teaspoon white pepper (optional)
fresh snipped parsley, optional to serve
fresh small fresh edible flower, optional to garnish (such as violets or
Johnny jump-ups)
Sauce Hollandaise:
1⁄2 cup butter (1 stick)
4 large egg yolks
1⁄2 cup heavy cream (or whipping cream)
2 tablespoons lemon juice (to taste)
1⁄4 teaspoon sugar
1⁄2 teaspoon Dijon mustard
Directions
Warm the olive oil or butter in a large saucepan over medium heat. Add the peeled and trimmed asparagus, lemon zest, and salt & pepper; stir to combine.
Cover and cook until tender-crisp, about 5 minutes, stirring occasionally.
Do not over cook.
Arrange on serving platter and squeeze with fresh lemon juice.
Prepare the Hollandaise Sauce: Cut the butter into four pieces and place in a 1-quart glass measure or bowl. Microwave, covered with a paper towel, on high, until almost melted (about 45 seconds to 1 minute).
Remove butter from the microwave and stir until completely melted.
Separate eggs, placing the yolks in a small bowl and setting the whites aside for another purpose. Beat the yolks well with a whisk or fork, then add to the butter and stir well.
Add cream, lemon juice, and sugar to egg mixture and stir well. Microwave mixture, uncovered, on high, until just slightly thick, about 1 to 2 minutes, stopping every 20 seconds to stir with a fork. Remove sauce from microwave and stir in the mustard.
Pour warm sauce over the cooked white asparagus and serve at once.
Garnish with fresh snipped parsley or fresh small edible flowers such as violets or Johnny jump-ups, if desired.
Tip: Sauce may be kept warm for up to 2 hours in an insulated container. Or cool the sauce to room temperature and refrigerate it in a covered microwave safe container for up to 24 hours. To re-warm, cover container with plastic wrap, pierce wrap with a knife to vent, and microwave on 50 percent power until heated through, about 2-3 minutes, stopping to stir halfway through. Do not allow sauce to boil.