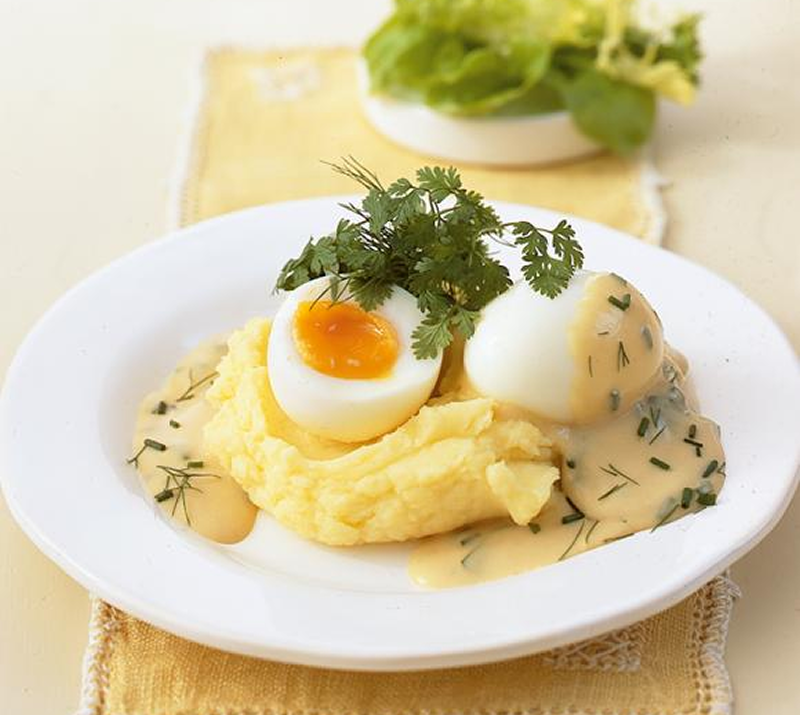 Ingredients
8 Eggs – hard boiled (approx. 8 minutes) and cut in halves

1 yellow onion – chopped

1-2 tablespoons butter

2 tablespoons white flour

13.5 floz. Vegetable fond

5.3 oz Crème fraiche or heavy cream

2-3 tablespoons dijon mustard

1/2 cup fresh dill – chopped
salt & pepper

Directions
In a heated pan melt the butter and add the chopped onions. Gently steam these until soft. Sprinkle with the flour and cook this gently, making sure it does not go brown.
Pour in the vegetable fond and mix well. Add the heavy cream and allow to simmer for approx. 5 minutes. Add in the mustard and salt and pepper to taste.
Cook the rice according to instructions.
In the meantime add the egg halves into the mustard sauce and heat through. Sprinkle the chopped dill over the sauce. Serve this on a heated plate with the Bratkartoffeln, boiled potatoes or Kartoffelpüree.
A nice side dish to this is a big green salad with a light vinaigrette.