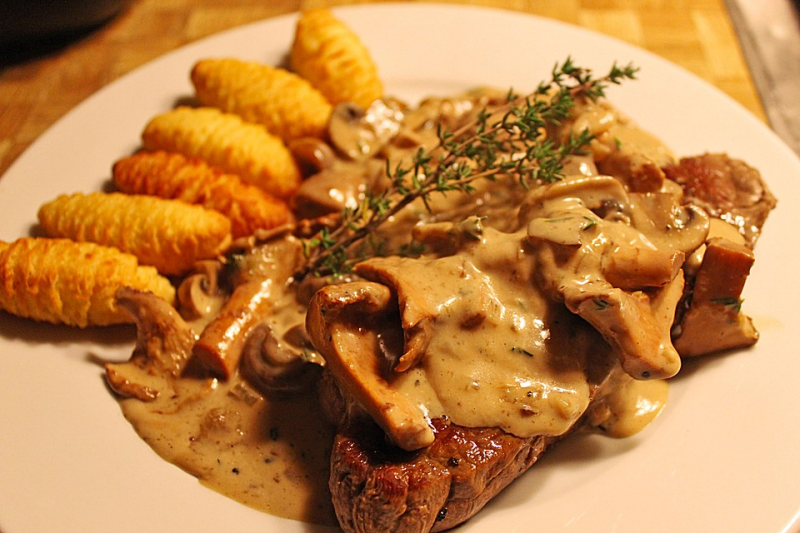 Ingredients
1 1⁄4 lbs fresh pork tenderloin, sliced 1/2 inch thick (1/2 kg)
5 tablespoons unsalted butter
1⁄4 cup cognac
1⁄4 cup dry white wine
1⁄2 cup beef broth or 1⁄2 cup consomme
1 lb mushroom, wiped clean and sliced thin
1⁄4 cup finely minced shallot
1 tablespoon dried mushroom, minced (Steinpilze) (optional)
1 pint half-and-half cream
salt & freshly ground black pepper
Directions
Brown the pork in 2 Tablespoons of the butter in a large heavy skillet over moderately high heat; remove to a shallow baking dish, cover with foil and keep warm.
Deglaze the skillet with Cognac or good brandy and wine, add broth and reduce by two-thirds; pour over the pork, re-cover and set in a warm oven 250°F.
Add the remaining 3 Tablespoons butter to the skillet and sauté mushrooms and shallots 3 to 5 minutes over moderate heat until juices ooze out; add dried mushrooms, if you like, and sauté about 5 minutes longer or until mushrooms are limp and juices have evaporated.
Stir pork medallions (and all their liquid) back into skillet, add half and half and simmer over medium low heat 10 to 15 minutes until cream reduces by half and is the consistency of a thin white sauce.
Season to taste with salt and pepper.
You can serve it with Kroketten, Bratkartoffeln or Kartoffelpüree.