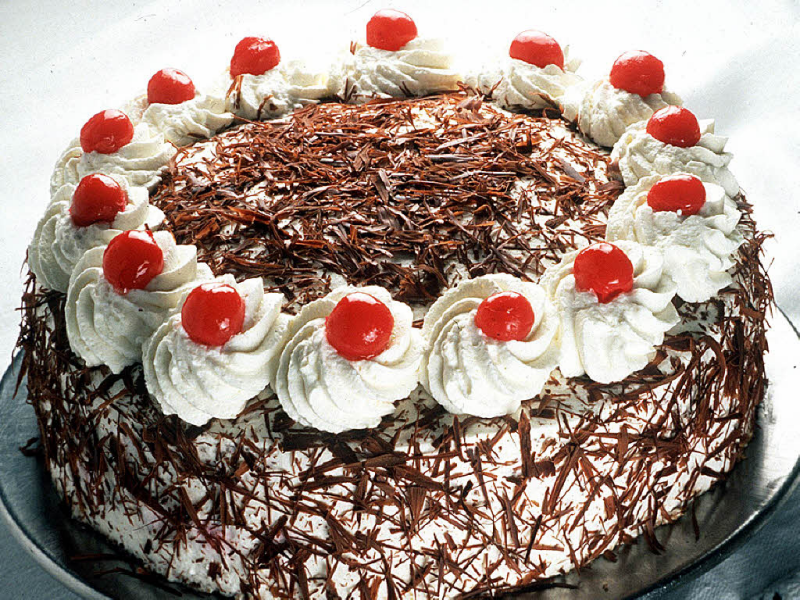 Ingredients
Butter, for greasing pan
6 egg yolks
4 whole eggs
1 cup sugar
Scant 3/4 cup sifted all-purpose flour
1/3 cup wheat flour
Scant 1/4 cup cocoa powder
Semisweet chocolate curls, for garnish
Bottled cherries, for garnish
2 tablespoons plus 4 tablespoons Kirsch
1 1/2 tablespoons plus 2 tablespoons sugar
1 teaspoon corn flour
Pinch grated lemon zest
Pinch cinnamon
1 (14-ounce) jar cherries, drained
1/4 cup melted semisweet chocolate, for first layer
1 pint heavy whipping cream
1 tablespoon vanilla sugar, or 1 tablespoon sugar plus 1 teaspoon vanilla extract
3 1/2 ounces Syrup, recipe follows
1 1/2 cups cold water
3/4 cup sugar
5 tablespoons Kirsch
Directions
Preheat the oven to 375 degrees F.
Butter and line a 9-inch round cake pan with parchment paper. Butter the parchment paper and set aside.
Whisk the eggs yolks, eggs, and sugar in a large metal bowl over a pot of simmering water for a few minutes until the mixture is about 120 degrees F. Remove the bowl from the heat, and keep whisking to aerate the mixture until it is thick and fluffy, about 10 minutes. The mixture should increase in size 4 to 5 times and become very pale in color.
Gently fold in both the sifted flour and wheat flour, and the cocoa powder. Pour the mixture into the prepared cake pan, and flatten it out carefully with a rubber spatula. Bake for about 20 minutes, or until a toothpick inserted into the center comes out cleanly. Invert the cake onto a wire rack, and cut a few vents in the parchment paper so that the steam can evaporate. Let inverted cake rest for 24 hours.
In a small bowl, combine 2 tablespoons Kirsch, 1 1/2 tablespoons sugar, and the corn flour. Add a pinch lemon zest and a pinch of cinnamon to the bowl, and stir to combine. In a small saucepan, bring to a boil the remaining 4 tablespoons Kirsch. Reduce the heat to medium, add the sugar mixture, and stir. Then add the cherries, stir again, and heat through. Remove from the heat, pour into a bowl, and let cool.
Cut the cake into 3 layers. Spread the melted chocolate evenly over the bottom layer, and place it in the refrigerator to cool and harden slightly. Meanwhile, make the whipped cream and the syrup.
For the whipped cream, whip together the cream, remaining 2 tablespoons sugar, and vanilla sugar. If you don't have vanilla sugar, you may substitute 1 tablespoon sugar plus 1 teaspoon vanilla extract. Begin whipping slowly, making the mixture lighter, and continue until you have achieved light and airy whipped cream.
For the syrup, combine 1 1/2 cups water and 3/4 cup sugar in a small saucepan. Bring to a boil, stirring constantly. When mixture is boiling and sugar has totally dissolved, remove the pan from the heat and add the Kirsch, and stir to combine.
Remove the chocolate-covered base layer from the refrigerator and brush syrup over the top. Add about 1/2 of the filling mixture, and 1/4 of the whipped cream. Repeat the layer, brushing with syrup, then filling, and then whipped cream. Place the third cake layer on top, brush it with syrup, and then cover it with whipped cream.
Spread the remaining whipped cream around the side of the cake. Decorate the top of the cake with chocolate shavings and additional cherries.