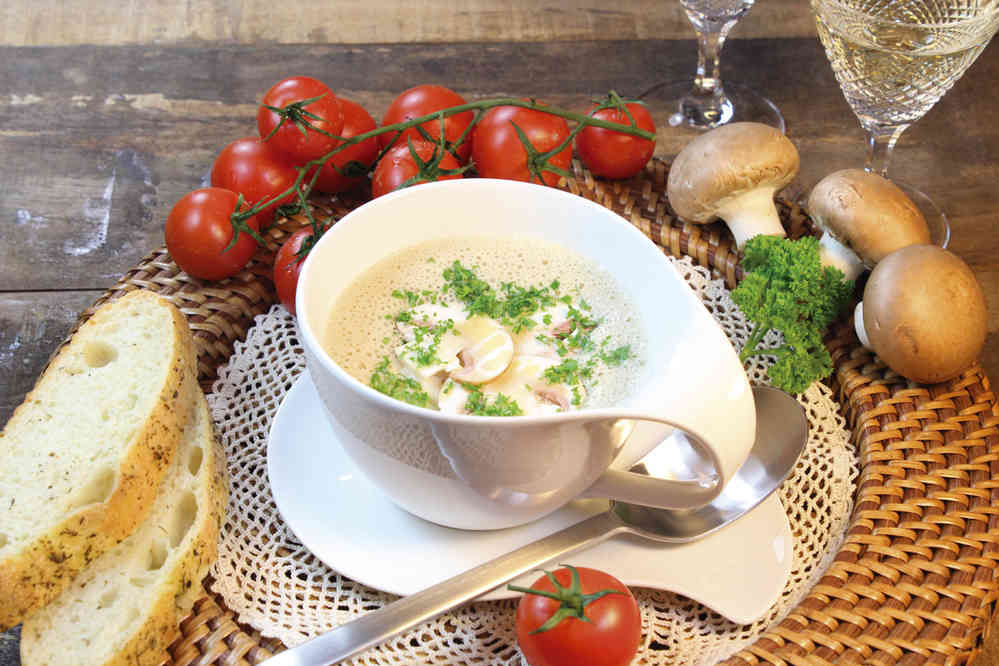 Ingredients
3 cups hot water
6 Tbsp butter, divided 3 Tbsp and 3 Tbsp
1/2 cup minced shallots
3 cloves garlic, minced (1 Tbsp)
½ lb fresh cremini or button mushrooms, halved and sliced into 1/4-inch slices
1/2 cup flour
1/3 cup dry sherry
Salt and Pepper
4 cups good quality chicken stock (or vegetable broth for vegetarian version)
1 teaspoon herbes de provence
1/2 teaspoon dried thyme
2 bay leaves
1 teaspoon salt (plus more to taste)
1/2 cup heavy cream
¼ cup finely chopped parsley
¼ cup snipped chives
Directions
Place dried wild mushrooms in a medium bowl and cover with 3 cups of very hot water. Let sit for 30 minutes. Line a sieve with a dampened paper towel or coffee filter.
After 30 minutes strain the mushrooms through the filter, reserving at least one cup of the mushroom liquid.
Roughly chop the reconstituted wild mushrooms.
Sauté shallots, garlic, mushrooms: Heat 3 Tbsp butter in heavy saucepan over medium low heat and sauté the shallots until softened and translucent, about 7 to 8 minutes. Add the garlic and cook a minute more.
Add the fresh mushrooms, increase the heat to medium high, and cook several minutes more. Add chopped wild mushrooms. Lower the heat, cover and let cook for 10 minutes.
After 10 minutes increase the heat to medium high, uncover and add 1/3 cup dry sherry to the pot.
Make a roux with butter and flour: Add remaining 3 Tbsp butter to the pot and stir until melted. Add the flour to the pot and stir until the mushrooms are all well coated with the flour, making a roux. Cook for 2 to 3 minutes.
Add mushroom water, stock, and herbs: Add one cup of reserved mushroom soaking water and stir until the flour has dissolved into the water and there are no lumps. Add the chicken stock. Stir until well incorporated.
Add the herbes de provence, the dried thyme, bay leaves, and salt.
Heat on high until the soup comes to a low simmer. Lower the heat to maintain a simmer, cover and cook for 20 minutes.
When ready to serve, remove the bay leaves and stir in 1/2 cup heavy whipping cream. Add black pepper and more salt to taste.
Garnish with chopped chives and parsley.
Optional with Semmelknödel.