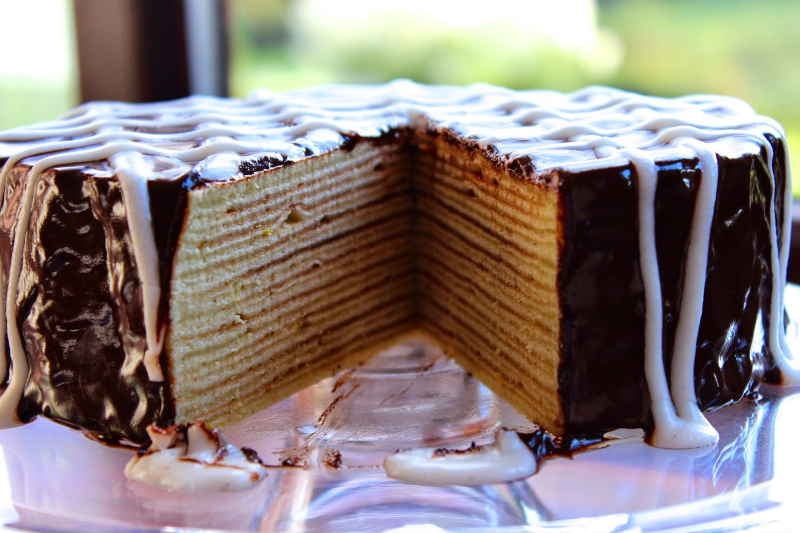 Ingredients
Cake:

10 large eggs, separated

3.5 oz unsalted butter

5.3 oz caster / icing sugar

1 large lemon's zest

1 tsp vanilla extract

5.3 oz all-purpose flour, sifted

2.1 oz cornstarch

oil

1 jar of apricot jam
Chocolate Glaze:

5.3 oz confectioners' sugar

4 tablespoons cocoa powder

2 tablespoons milk

2 teaspoons vanilla extract

Vanilla Glaze:

1 1/2 cups confectioners' sugar

2 1/2 teaspoons milk

1/8 teaspoon salt

1/4 teaspoon vanilla extract

1 teaspoon butter
Directions
Make layered cake. In a stand mixer, whisk the egg yolks on high speed until pale and thick (5 minutes).
Separately, beat butter and sugar until pale and creamy. Mix in lemon zest and vanilla extract. Add in the whisked egg yolks from the stand mixer and mix well. Then add the flour and cornstarch and mix well to form a batter.
Separately, whisk egg whites until soft peaks form. Stir in one-third of egg whites into batter. Then gently fold the rest of the egg whites into the batter.
Melt apricot jam in a small pan and pass through a sieve to yield a smooth jam. Set aside.
Pre-heat oven to broil setting.
Grease an 8 inch springform pan with oil and cover the bottom with parchment paper.
Evenly spread 1/3 cup of batter onto the base of the pan and give the pan a quick shake to even out. Place in broiler and cook for 2 minutes or until light golden brown.
Take pan out of broiler and evenly spread 1/3 cup of batter onto the first layer and spread evenly with a brush. Place in broiler and cook for 3 minutes or until dark golden brown.
Repeat steps 6 and 7, ensuring that every 5th layer is instead a layer of smooth jam from step 4 cooked for 2-3 minutes. Repeat this process until all batter has been used, or 20 layers have been achieved.
Remove from oven and allow to cool in pan for a few minutes, and then remove from springform pan.
Brush the top and sides of the cooled cake with the rest of the apricot jam.
Make chocolate glaze. Sift together confectioners' sugar and cocoa powder into a bowl. Stir in milk and vanilla and mix until smooth. If too thick, heat up over small pan. Pour evenly over cake.
Make vanilla glaze. Melt butter and add in confectioners' sugar, milk, salt and vanilla extract. Mix until smooth. Pour into squeeze bottle and drizzle over cake.