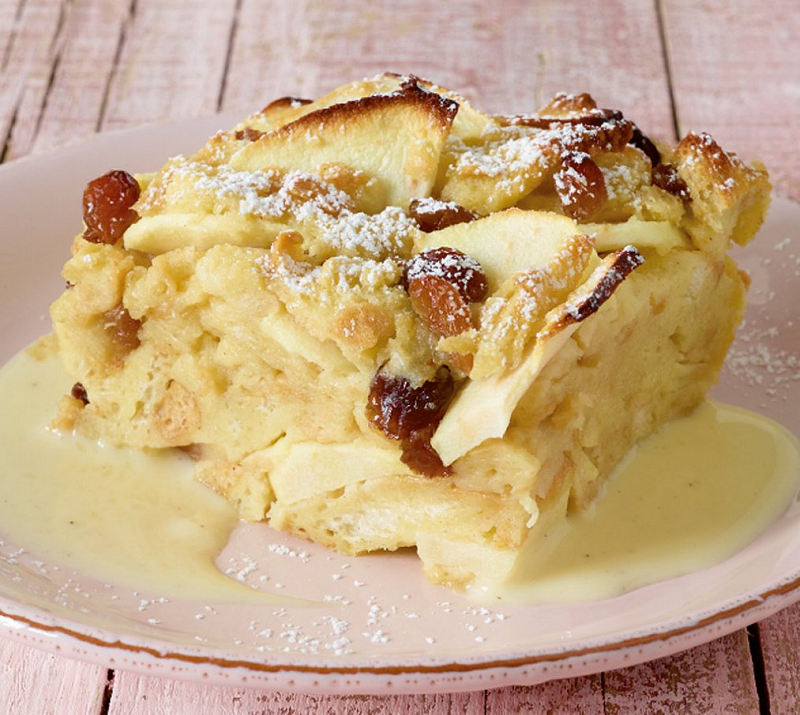 Ingredients
17.5oz (500g) (stale) white bread
2 apples
2 peaches
4 tbsp. (60g) refined sugar
1 pinch ground cinnamon
2 cups (1/2l) milk
4 eggs
4 tsp. (2cl/20ml) rum or a few drops of rum aroma
1 tbsp. butter
Directions
Wash the apples and peaches and peel them if you like, but this is not mandatory. Then cut them into slices approximately a quarter of an inch thick (1 cm, not too thin).
Next, cut the bread into slices about the same size as the fruit. You can use any kind of white bread that you have on-hand, but for an extra soft Scheiterhaufen, something like the white bread used for toast yields the best result.
Pour the milk into a bowl and add the eggs. Mix well. Then take the slices of bread and let them soak in the mixture for a few seconds. (This will take longer if you use stale rather than fresh bread.)
Mix the refined sugar and the cinnamon in a cup or a small bowl.
As a next step, grease an ovenproof dish. Now layer the slices, bread and fruit alternately.
Sprinkle a bit of the sugar-cinnamon mixture on top of every layer.
For the best result, start and end with a layer of bread. You can decide whether you want an apple and a peach layer or whether you would like to mix the different kinds of fruit.
Last, sprinkle a few flakes of butter on top and put the dish into the oven for 45 min at 180°C/350°F.