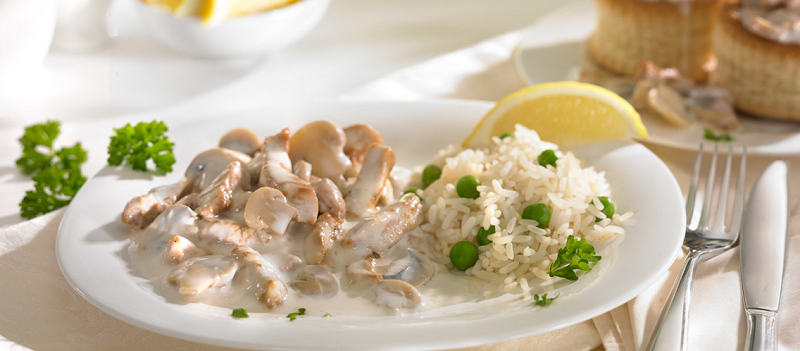 Ingredients
4 pcs chicken breast fillets
17 floz. chicken broth
4.3 oz asparagus
7 oz. mushrooms
1 tsp butter
4 pcs pies
1 oz butter
1 oz flour
1 floz. white wine
4.2 floz. cream
1 pinch salt
1 pinch pepper
1 Prov Worcestershire sauce
Directions
Place the chicken breasts in the broth simmer about 45 minutes.
In the meantime, let drain the asparagus and cut into small pieces.
Clean the mushrooms and cut into slices. Heat the butter in a skillet and saute the mushrooms in it briefly, and set aside.
The pies on a baking sheet and warm in the oven according to package directions.
The chicken meat from the broth and take small pieces.
Let the butter melt in a saucepan and sprinkle in the flour. Deglaze with 375 milliliters of broth and bind with stirring.
Add the white wine and pour the cream and let it all simmer for about ten minutes. Mushrooms, asparagus and pour in chicken, heat it up briefly, and season with salt, pepper and Worcestershire sauce.
The pies on a plate, with the fin stew filling and serve immediately.