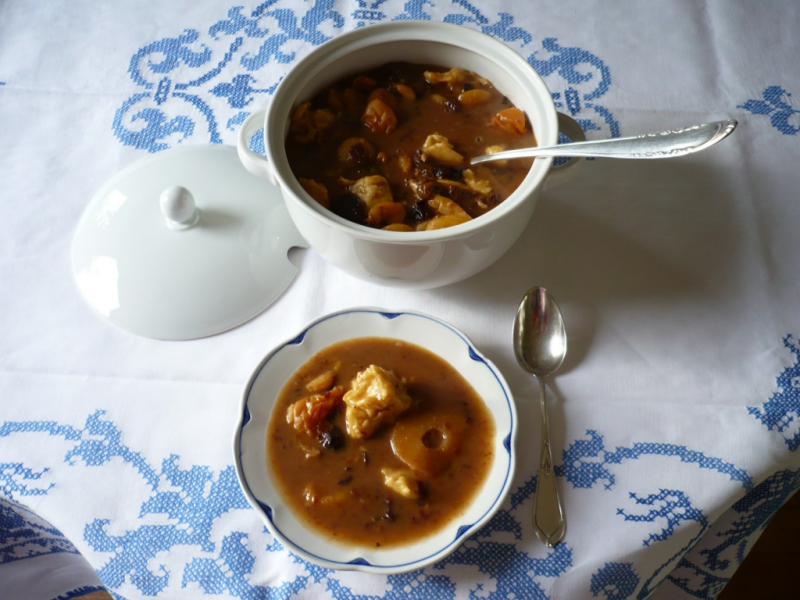 Ingredients
1 lb pit-less baking plums
1 cup red wine vinegar
1-1/3 lb bacon
8-1/2 cups water
1 tbsp sugar
2 tbsp corn starch
1-1/8 cups milk
1/8 cup butter
dash of salt
dash of sugar
dash of nutmeg
1/2 cup flour
2 eggs
parsley if desired
Directions
Peel the plums. Pour the red wine vinegar into a bowl and allow the plums to soak for about 30 minutes. Cook the bacon in water for about 30 minutes and add the plums, vinegar, and sugar to the pot. Simmer for about 10 minutes. In a small bowl, mix the corn starch with a little bit of water until smooth, then add it to the pot.
Bring the milk to a boil. Add butter, salt, sugar, and nutmeg. As soon as the butter is melted, add the flour and stir until the dough is thickened. Remove from heat and allow to cool.
Mix eggs into the dough. Using a spoon, form small dumplings from the dough and put into boiling salt water for about 5 minutes.
Remove the bacon from the pot and cut into slices. Arrange with the dumplings and pour the plum-bacon sauce over each arranged plate. Garnish with parsley if desired.