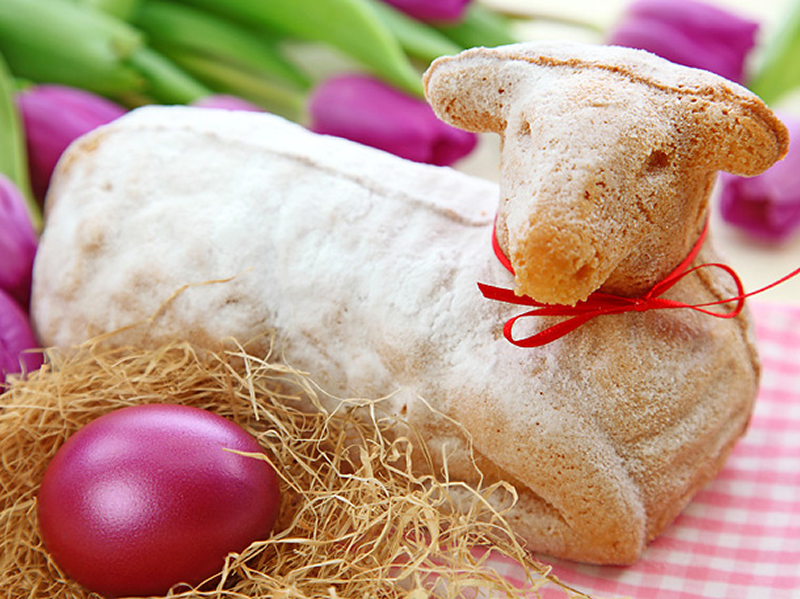 Ingredients
4.2 oz unsalted butter, room temperature
4 oz granulated sugar
2 large eggs
1 tbsp vanilla extract (or 1 packet of vanilla sugar)
5.6 oz all-purpose flour
1 tsp baking powder
⅛ tsp salt
1 tbsp whole milk
powdered sugar for dusting
Osterbackform "Lamm" (Easter Lamb Pan) – (27.5cm x 15cm x 6.5cm)
Directions
Preheat your oven to 350F or 180C degrees. Butter and flour the inside of the lamb pan and clip the sides back together. Place the lamb pan on a baking sheet UPSIDE DOWN.
Cream together the butter and sugar for about 2 minutes.
One at a time, add the eggs and mix well after each egg. Add the vanilla extract and mix to combine.
In another bowl, whisk together the flour, baking powder and salt. Add this to the butter/sugar and mix until just combined. Scrape down the sides of the bowl, add the milk and mix until smooth – no more than about a minute. You don't want to overwork the batter.
Pour all the batter into the prepared lamb pan and smooth out the top.
Bake for 45 minutes.
Allow the lamb to cool in the pan for about 10 minutes before removing it to a wire rack to cool completely.
Trim off any excess cake from the seams. If the lamb does not sit upright, trim a little off the bottom to make it level.
Dust the cake with powdered sugar.
Optionally, you can melt a bit of chocolate and pipe on ears and eyes.
Also, you can tie a ribbon around the lambs neck.