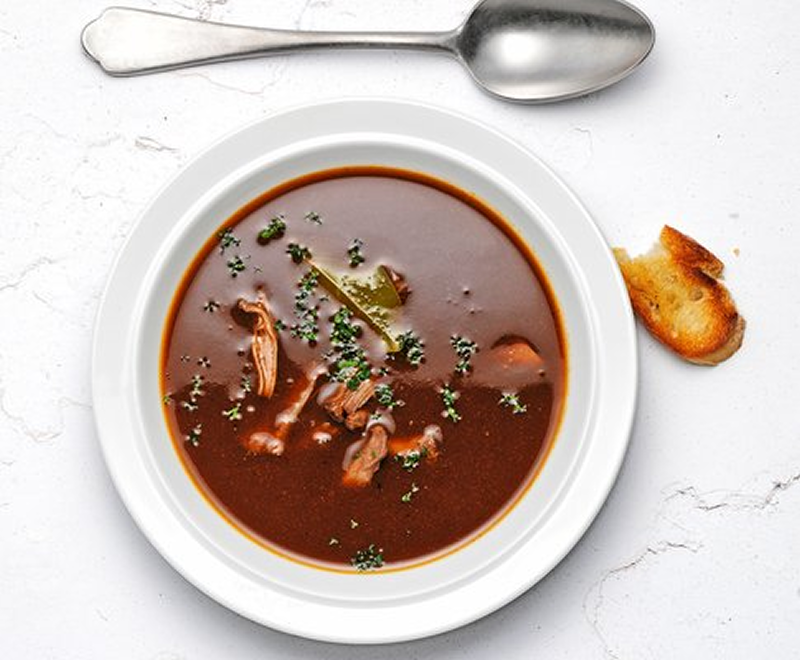 Ingredients
2-1/4 lbs oxtail
3 onions
1 celery root
1 carrot
1 leek
1 parsley root
2 cloves garlic
2 tbsp canola oil
2 tbsp tomato paste
1-1/4 cups dry white wine
2 bay leaves
1-2 thyme twigs
1/2 tsp peppercorns
salt and pepper
1/2 cup medium dry sherry
cayenne pepper if desired
parsley

Directions
Wash the oxtail pieces and pat dry. Peel and dice the onions. Dice the celery root, carrot, leek, and parsley root.
Peel and halve the garlic cloves.
In a large pot, heat the oil. At high heat, fry all sides of the oxtail pieces. Add the onions and stir. Mix in the leek, carrot, parsley, celery root, tomato paste, and garlic.
Allow everything to cook for a little.
Add 8-1/2 cups hot water and the white wine. Mix in bay leaves, thyme, and peppercorns. Place a lid on the pot and allow simmering on low heat for about 2-1/2 hours.
Using a spoon with holes, remove the oxtail pieces from the pot. Pour the broth through a fine colander and return to the pot. Add the oxtail back. Remove from heat.
Add sherry, salt, pepper, and cayenne pepper to desired taste. Garnish with parsley.