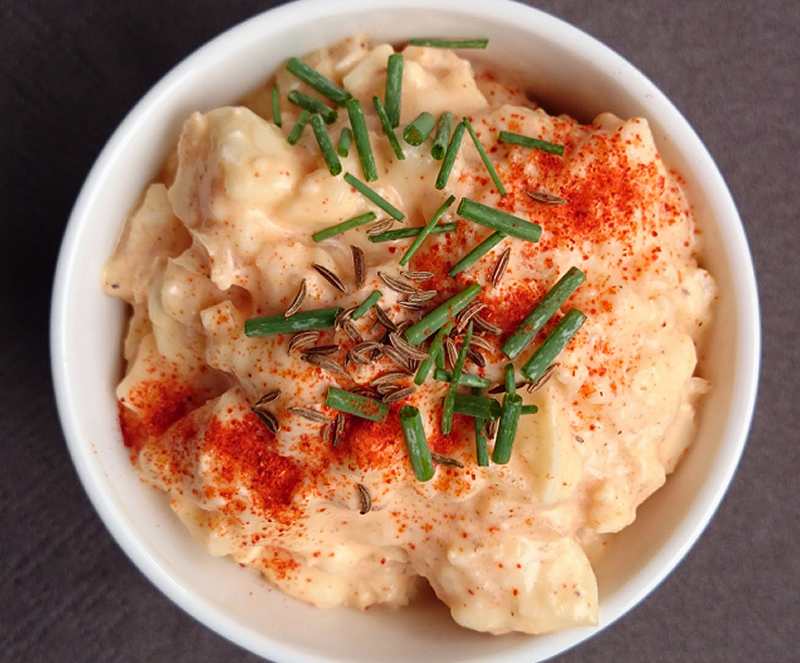 Ingredients
1 lb brie cheese or 1 lb camembert cheese, coarsely chopped
6 ounces cream cheese
1/4 cup butter, cut into small pieces
1/4 cup dark german ale
3 cloves roasted garlic (See note)
1 teaspoon caraway seed
1 pinch sweet paprika
salt & freshly ground black pepper
1/4 cup diced Spanish onion
1 loaf French bread or 1 loaf german bread
1/3 cup thinly sliced red onions or 1/3 cup vidalia onion (for garnish)
1/4 cup thinly sliced radish (for garnish)
cut vegetables, such as carrots or celery sticks,sliced bell peppers and bit sized florets of broccoli and cauliflow
1/2 lb mixed olive
Directions
Place the brie or camembert in a medium bowl.
Add the cream cheese, butter, ale, garlic, and caraway seeds.
Add paprika, and salt and pepper to taste; beat well to combine.
In a strainer, rinse the diced onion under cold water.
Drain and transfer to a clean kitchen towel, squeezing out all the liquid.
Fold the onion mixture into the cheese mixture.
Cover and refrigerate at least 2 hours, allowing the flavors to melt, or store, covered and refrigerated, for up to 4 days.
If using French bread, slice into 1/4 inch thick slices.
If using German bread, halve lengthwise, then slice into 1/4 inch thick slices.
To serve, top the obatzda with the Vidalia onion and radish slices, and surround with the fresh cut vegetables, olives and sliced of French or German hard bread.
NOTE: To roast the garlic; peel off any papery coating from the garlic head.
Using a large sharp knife, cut about 1/2 inch from the top of the bulb, exposing the tips of the garlic cloves.
Place in a small baking dish, drizzle lightly with olive oil, and season with salt.
Pour 1/4 cup of water in the bottom of the dish, cover tightly with foil, and roast in 375*F oven, about 1 hour.
A sharp paring knife should insert into the garlic easily.