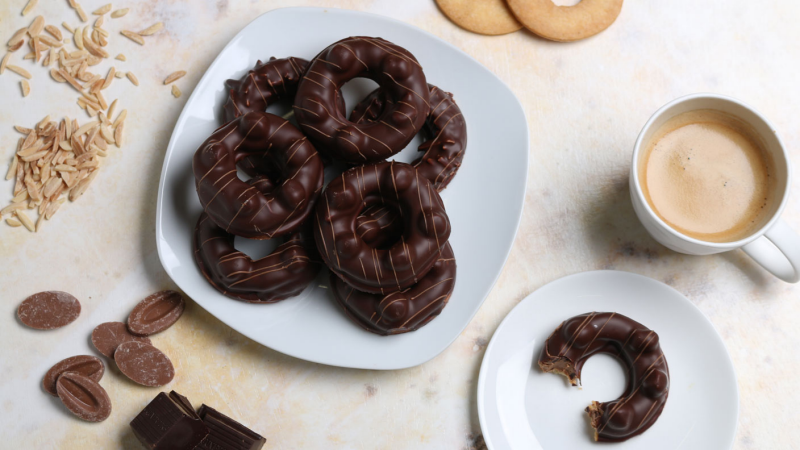 Ingredients
For the topping
8.5 floz. milk
¼ vanilla bean
3.5 oz. nougat
2 egg yolks
0.9 oz. sugar
1 oz. cornstarch
4.5 oz. soft butter
3.5 oz. powdered sugar
For the garnish
3.5 oz. slivered almonds
7 oz. couverture (bitter)
1.4 oz. butter
For the cookie rings
5.3 oz. pastry flour
1.8 oz. ground hazelnuts
1.8 oz. sugar
2 teaspoons vanilla sugar
1 pinch salt
3.5 oz. butter
1 egg
1 tablespoon rum
Directions
For the garnish: Toast the slivered almonds in a dry skillet until golden brown and set aside.
For the cookie rings: In a bowl, stir together the flour, nuts, sugar, vanilla sugar and salt. Cut the butter into small pieces and with a pastry blender, cut the butter into the flour mixture until it resembles coarse crumbs. Add the egg and rum. Quickly knead until the dough comes together. Wrap in plastic wrap and refrigerate 30 minutes.
Preheat the oven to 350°F. Line a baking sheet with parchment paper.
Roll out the dough about 3 mm (approximately 1/8-inch) thick and use two differently sized biscuit cutters 8-10 cm (approximately 3-4-inch) diameter. Place on the baking sheet and bake until golden brown, about 10 minutes. Cool on a wire rack.
For the topping: Split the vanilla bean lengthwise and scrape the seeds into a saucepan along with the bean and the milk and bring to a boil. Stir in the nougat and cook until melted. Remove the vanilla bean.
Whip the egg yolks with sugar until foamy. Stir in the cornstarch. Gradually whisk in the hot milk then pour everything back into the pot and bring to a boil again while stirring. Remove from the heat, transfer to a bowl and chill over an ice water bath, stirring occasionally.
Meanwhile, in a bowl, beat the soft butter with the powdered sugar until fluffy. When the nougat cream has reached the same temperature as the butter, stir it by spoonfuls into the butter.
Then spoon the nougat buttercream into a piping bag fitted with a large star tip. Pipe some of the mixture onto the larger of the cookies and place the smaller cookie on top, pressing to adhere.  Refrigerate until the buttercream has become almost solid.
For the garnish: Place the chocolate and butter in a heatproof bowl set over a hot water bath, stirring until melted. Brush a little of the chocolate mixture over the cookies and scatter the slivered almonds over.  Coat the nougat rings generously with the remaining chocolate mixture and let dry at room temperature.