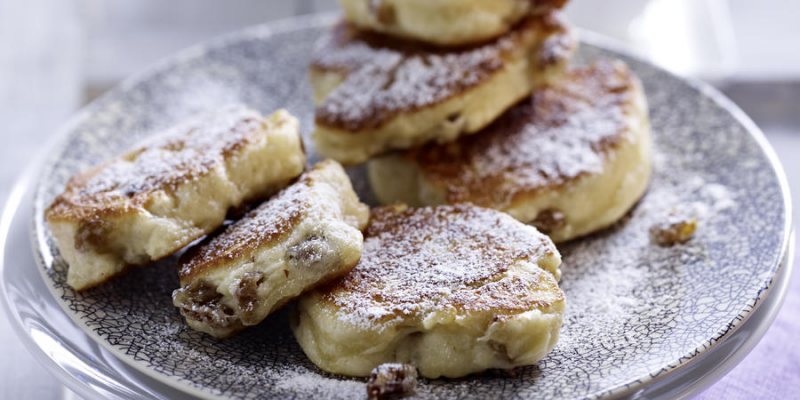 Ingredients
0.6 oz fresh yeast

10 oz milk

1 tbsp sugar

2 cup plain flour

Salt

0.75 cup raisins

1 oz clarified butter
Directions
Dissolve the yeast in approximately 50 ml / 1 2/3 oz lukewarm milk.
Add sugar and let the yeast mix stand for 10 minutes.
In a bowl combine flour, pinch of salt and raisins. Make a small hatch in the middle of the flour mix and pour in the yeast milk.
Add the remaining lukewarm milk and stir until viscous pancake dough results. Cover the bowl and let the dough rise for at least 1 hour.
Heat clarified butter (or shortening) in a coated pan on medium heat. Put one tablespoonful of dough in the pan for each Struwen.
You can bake 3-4 pancakes at once in the pan. Using a spoon flatten the dough until 8 cm / 3 inches in size.
You might reduce the heat a little. The Struwen are thicker than normal pancakes and if the heat is too high they will be brown on the outside but not yet done inside. Serve the Struwen hot.
If desired sprinkle with sugar and cinnamon or confectioner's sugar.