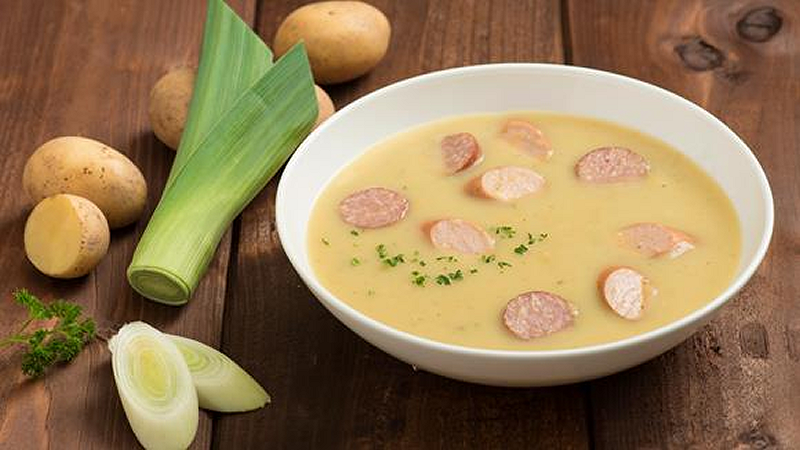 Ingredients
A little over 2 lbs of Yukon Gold Potatoes
One large Leek
One bunch of Suppengrün (what is Suppengrün: https://ilovegermanfood.com/recipes/suppengruen)
6 – 7 cups of Chicken Broth
4 – 5 slices of thick cut Bacon or 5 oz of unsliced Bacon
Bacon Fat from the cooked Bacon
1/4 cup of Cream
Salt and Pepper to taste
Optional: German Wieners or a fairly neutral sausage. The flavour of the sausage shouldn't compete with the soup
Directions
Peel and cut up all the lovely potatoes as evenly as you can.
Weigh out more than 2 lbs because once you peel off all that skin you end up with less than you'd think.
Cut the leek up the middle and wash all the grit out of the inside.
Afterwards, slice both sides.
Chop all the veggies in the Suppengrün bunch. Parsley stems are optional.
To recap, that's two carrots, 1/4 of a celery root, one small leek and a handful of parsley.
Preheat a large pot and medium and pour in a bit of canola oil. Add in all the chopped veggies and give them a good stir.
Cover and cook down for about 10 minutes until the leeks are softening.
Stir often to keep the veggies from sticking to the bottom too much.
Add in the broth and let it cook covered on medium low for 20 minutes, or until the potatoes and carrots are very tender.
While the veggies are simmering in the broth, prepare the bacon.
If you're using sliced, 4 – 5 of thick cut bacon either in the microwave or in a pan. Whatever works best for you. Just be sure to save that fat!
Chop up the slices once they're cool enough to handle.
If you've got a 5 oz piece from a slab, cube it up and saute in a pan until it's turning crispy and browning nicely.
When the potatoes and carrots are soft, puree with an immersion blender until nice and smooth.
Now we pour in that bacon fat I keep talking about.
Adding the cream for this soup isn't an exact science. Add to taste. Usually add about 1/4 of a cup.
Or, if you really feel like you want to skip the cream, you can use milk as well. You can add about 1/3 of a cup of milk.
Now is also a good time to adjust the salt and pepper to your liking.
And if you really want a full on classic experience with this soup, add in a few chopped up wieners and just warm up in the soup for about 5 or so minutes before serving.