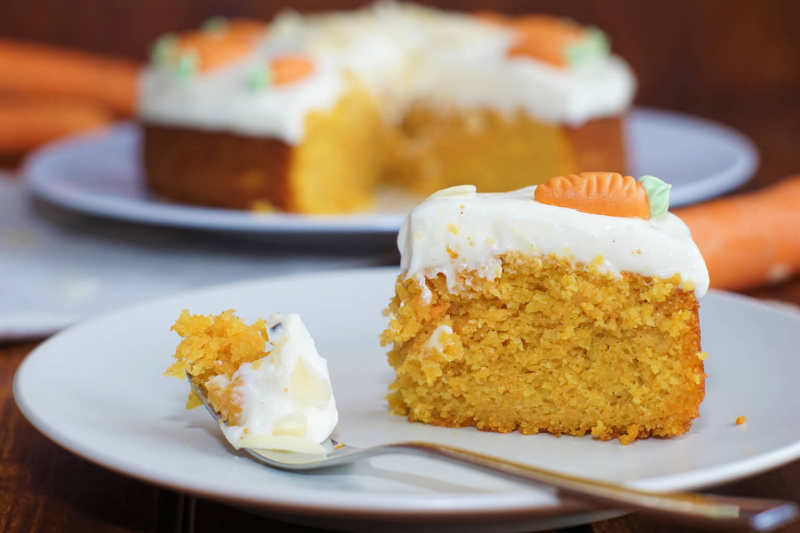 Ingredients
4 – 8 ounces jars of carrot baby food or 1 ¾ cup carrot puree, (baby food)
2 eggs
1 cup canola oil
2 cups +2 tablespoons flour
1 ½ cups sugar
1 teaspoon salt
1 teaspoon baking soda
1 tablespoon maple syrup
½ teaspoon cinnamon
1 cup evaporated milk
1 cup white granulated sugar
3 egg yolk, beaten with 1 teaspoon water
1/2 cup butter or margarine
1 teaspoon vanilla extract
1 cup chopped pecans
1 cup flaked coconut
1 tablespoon of cornstarch
½ cup unsalted butter, softened
8 ounces cream cheese, softened
4 cups powdered sugar
1 tablespoon milk
Directions
Preheat oven to 350 degrees, gently spray 2 – 9 inch round baking pans with cooking oil and set aside.
Mix all of the ingredients listed above together until smooth and there are no chunks. Pour batter into the prepared pan, making sure to divide evenly.

Place in preheated oven and bake for 25 minutes. Remove from oven and place on cooling rack until completely cooled.

While cake is cooling prepare frostings. Make German Chocolate Cake Frosting first, so that it has time to cool.

Cake Frosting: In a large saucepan combine evaporated milk and cornstarch and mix; add in sugar, egg yolks, margarine and vanilla. Cook over low-medium heat until it reaches a slow boil. Stirring constantly until thick, about 12 minutes from when it starts to slowly boil.
Remove from heat and stir in pecans and coconut, this frosting will thicken up as it cools. Let the frosting completely cool.