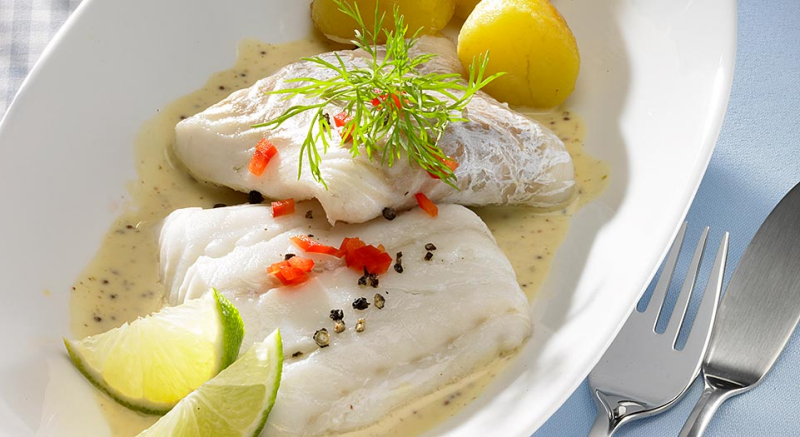 Ingredients
4 cups water
1⁄2 lemon, sliced
1 medium onion, sliced
2 bay leaves
1 tablespoon shredded carrot
1 teaspoon salt
6 peppercorns
2 lbs cod
For the mustard sauce:
2 tablespoons butter
2 tablespoons all-purpose flour
1 cup cooking liquid (from fish)
3 tablespoons Dijon mustard
1 dash salt
1 teaspoon sugar
1 -2 tablespoon cream, half-and-half or 1 -2 tablespoon whole milk
Directions
Place water, lemon, onions, carrots, bay leaves, peppercorns in a deept skillet and bring to a boil over high heat.
Add fish in a single layer.
Reduce heat to low and simmer, covered, for about 10 minutes or until fish flakes easily.
Save the cooking liquid for the sauce.
Place fish on a warm platter.
To make the mustard sauce, melt butter in a small saucepan.
Add flour, a little at a time, stirring well.
Stir in liquid from fish.
Add mustard, salt and sugar. Stir well.
Remove from heat, add 1 tablespoon of the cream or milk. Sauce should be smooth and creamy. If sauce is too thick, add more cream or milk.