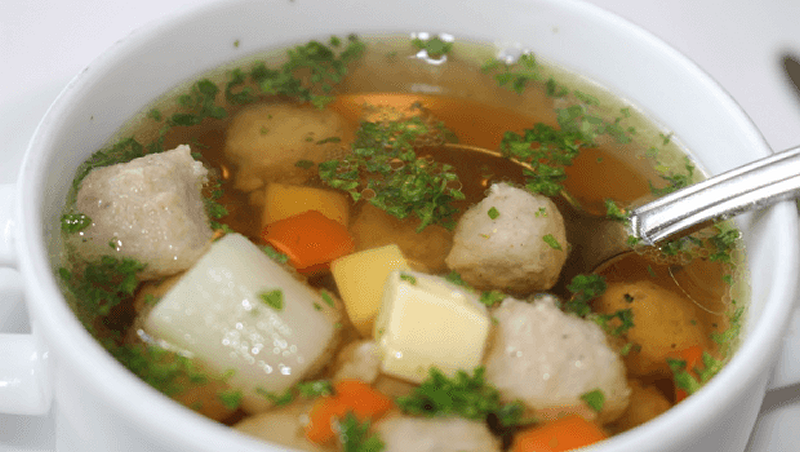 Ingredients
For the broth:
Chicken (wings + backs + necks): 2-3 lbs.
Soup beef: 1 lb.
Soup bone: 1 large
Leek: 1 cut into 4 pieces
Celeriac knoll: 1 small
Onions: 2 large
Parsley: 1
Cloves: 8
Salt and pepper: To taste
Cold water: 4 quarts
The vegetables:
Carrots: 3-4
Asparagus spears: 8 white
Leek: ½ (optional)
Cauliflower: ½ (optional)
Green peas: 1 c.
The meatballs:
Sausage meat or Thüringer Mett:4 oz.
Ground beef: 4 oz.
Egg: 1
Bread crumbs: 2-3 T.
The Eierstich
Milk: 1 c.
Eggs: 2
Egg yolks: 2
Nutmeg: Little freshly grounded
Salt: ½ tsp.
The Rest
Egged noodles: 2 c.
Chives and parsley: For garnishing
Directions
Though in the markets you can find good quality packaged broth, it is usually not advised to use them. Moreover, broth preparation will consume more time hence it is advised to do this a day in advance.
Furthermore, for the preparation of the broth you will need a large stock pot along with a cover. Place it onto the stove and add 4 quarts of cold water to it. Next, add all the vegetables listed under the broth section and bring the mixture to a boil. Then add about 1 tablespoon full of salt at first and then mix it well. Let it be on low heat for nearly 4 hours. You will have to skim the scum from time to time.
Now, extract the meat and vegetables out of the pot and pass the broth through several layers of cheese cloth – through these process fine particles can be removed. Next, you will be required to refrigerate the broth.
Now, check the broth for any hardness in the form of fat on the surface. These will have to be removed. Next, using 3 egg whites you can further clarify the broth by placing them in the cold broth and stirring quickly for a few minutes.
The broth then will be required to simmer for a while. Furthermore, after it simmers you will then have to again run this mixture through the cheesecloths into a pan. The broth is almost ready now; all you have to do is being it to a boil before serving.
Eierstich is quite popular in Germany and is used for garnishing clear soups. It is like an egg custard which is baked in a water bath and then cut in desired shapes and sizes.
To make the Royale, you will have to heat the milk in a pan till it reaches the boiling point. In the meantime, take a bowl and add the eggs, egg yolks, nutmeg and salt – all at the same time and beat it aggressively. Now, while whisking pour the hot milk slowly into the mixture. Let the mixture settle down and then pour it though a very fine sleeve into the desired formation. This sleeve will be able to collect any granular particles of nutmeg and cooked egg. An important point to keep in mind is that the foam has to be managed well as otherwise it will form an uneven crust.
Next, take a large dish and place the custard dish inside of it. Furthermore, add hot water carefully in-between the space of the two dishes. Make sure that water occupies 2/3rds of the space. Now place this into the oven and bake for 20-30 minutes. After this is done, let the Royale settle for 20 minutes and cool down. Next, using a knife or a cookie cutter brings the Royale to the desired shape. Some people also add colour to their Royale by adding tomato paste or minced parsley.
Boil a pot full of water and mix the ingredients under the meat ball section. They need to be cooked for 5 to7 minutes.
Also, you will have to boil about 1 and ½ cup of plain wide noodles. Drain the water and keep the noodles separately.
While serving the soup you must keep the following in mind.
Usually cooked ingredients are placed in the soup bowls and then the hot broth is poured over it. This is done so that the clouding of the broth can be avoided and the soup can remain clear.
You will have to place 4 meatballs and 4 pieces of Royale in each bowl along with 2 tablespoons of carrot and other vegetables and 1/4th cup of noodles. Using a ladle pour 1 cup of hot broth over the soup and finally garnish well with parsley or chives. Another point to keep in mind is that bread is ideally not served with the soup but one can choose to do so.