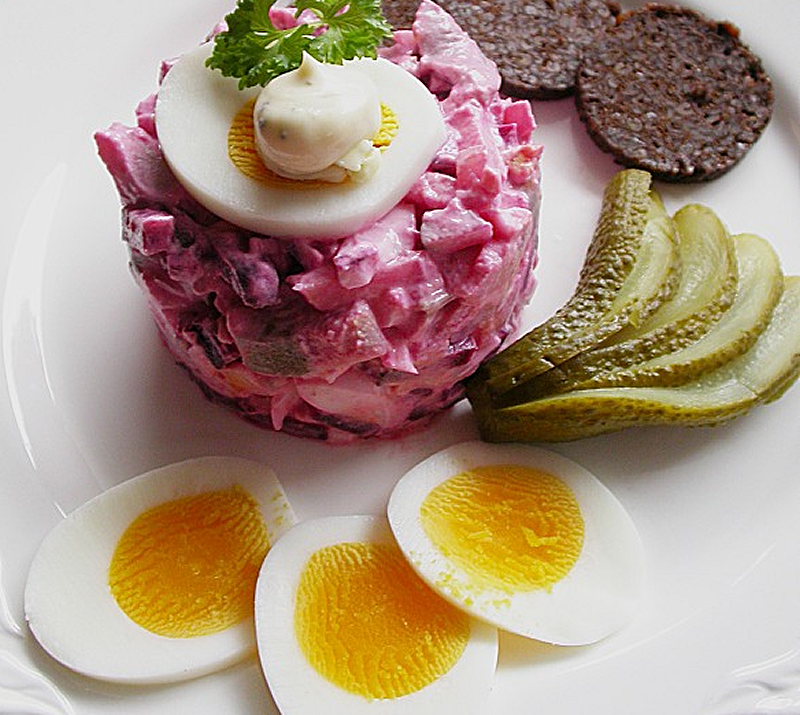 Ingredients
1 matjes herring per person (soused herring, a raw herring in mild brine)
tart apple
pickled beets
cornichons
shallot
roast pork, sliced (or chicken/turkey breast)
lingonberry preserve
crème fraîche
salt & pepper
dijon mustard
bay leaf, allspice, pimento
Directions
The herring should definitely be the predominant ingredient, so use all other ingredients in proportion.
Put crème fraîche and lingonberry preserve into large mixing bowl.
Chop the apple, beet, cornichons, shallot and cold cuts and add to the bowl.
Add djion mustard, salt & fresh ground pepper to taste and mix well.
Add bay leaf, allspice and pimento, cover the bowl (or fill into sealable jars) and let marinate in the refrigerator overnight – or better yet for a day or two.