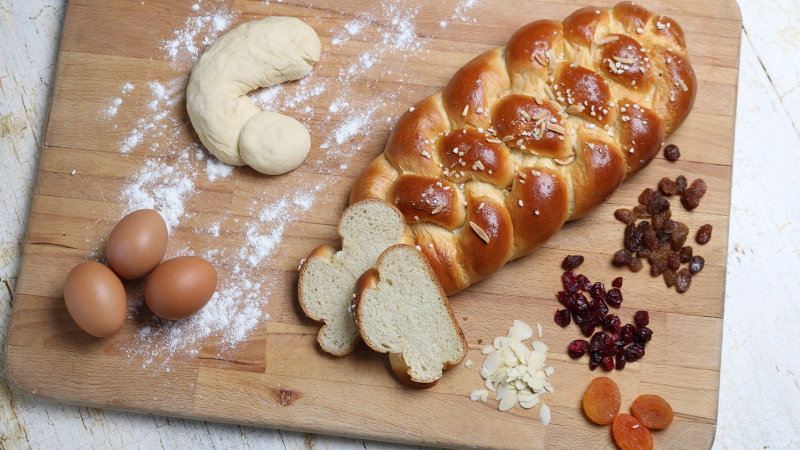 Ingredients
2 1/4 teaspoons or 1 package dry yeast
1 teaspoon sugar
1/4 cup water
3 1/3 cups or (1 pound) All Purpose flour
1/2 cup (4 ounces) granulated sugar
2 ounces (1/2 stick) butter, melted
3 eggs
1/2 teaspoon grated lemon peel (optional)
1/4 cup warm milk
1 cup raisins and /or other fruit
1 /2 cup Sliced or slivered almonds
1/4 cup coarse sugar (Hagelzucker)
for egg wash, take 1 egg and beat with 1 tablespoon water
Directions
Dissolve yeast in water and sugar. Stir well and allow to rise in a warm place.
In a mixing bowl, combine flour, yeast mix, sugar, butter, eggs and raisins.
Mix dough adding milk gradually until dough is elastic and does not stick to sides of bowl.
Add raisins and fruit if you want now, then shape into a ball.
Cover and refrigerate overnight or let it raise till double in volume.
If letting it sit overnight I place the dough in a plastic bag with a little oil,
or I cover the bowl with plastic wrap.
Preheat oven to 350 degree.
Divide dough into 3 parts.Roll each piece into 16 inch log or 8 inch log if your going to make 2 smaller loaves.
Place loaves on baking sheet with plenty of room to rise.
Let Rise at room temperature for two hours.
Beat one egg with 1 tablespoons water and brush the loaves with this. top with sliced almonds or Hagelzucker.
Bake about 30 minutes till nicely browned. take out and lift up the loaf and tap the bottom crust. If it has a nice hollow sound it is done.