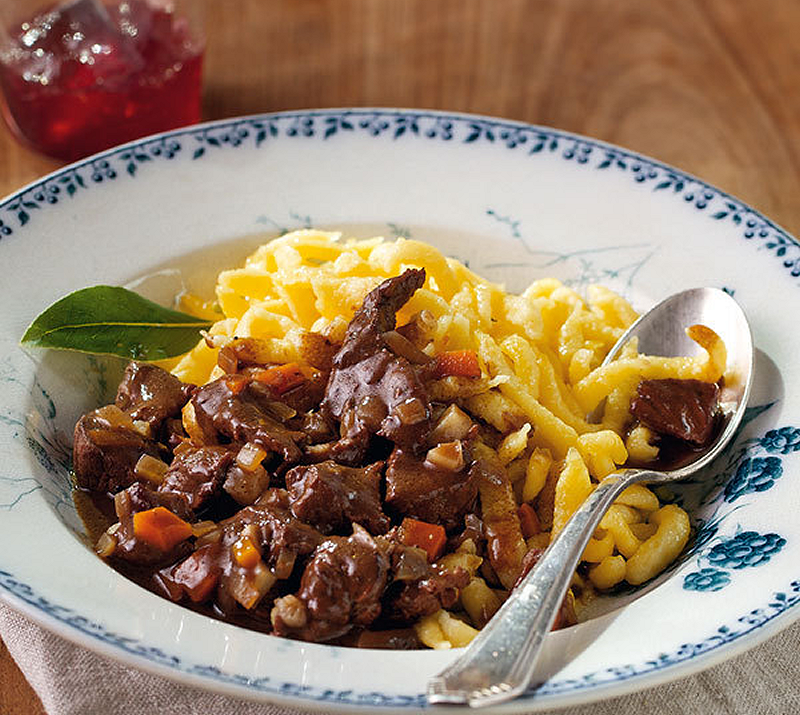 Ingredients
3 pounds rabbit, dressed and cut into serving pieces
salt and pepper, to taste
1/2 cup flour
1/3 pound bacon, diced
5 shallots or 1 onion, diced
2 or 3 cloves garlic, minced
1/4 cup cognac or brandy
1 1/2 cups beef broth
1 cup red wine
1 lemon, sliced 1/4-inch rounds
1 sprig fresh thyme
1 small sprig fresh rosemary
4 whole allspice berries
3 juniper berries
2 whole cloves
1 bay leaf
salt and pepper, to taste
1 tablespoon currant or grape jelly
2 tablespoons butter
1/4 cup flour
Directions
Season the rabbit with salt and pepper. Put the flour in a large bowl and add the rabbit to the bowl, tossing the pieces to coat them with the flour.
Shake off the excess flour and set the floured rabbit pieces aside.
Add the bacon to a large pot over medium-high heat and sauté to render its fat, 3-4 minutes. Add the shallots or onion and garlic and sauté until translucent and cooked through but not browned. Remove the bacon and shallots or onions to a bowl and set aside. Reserve some of the bacon fat in the pot.
Add more oil to the pot if necessary and return the pot to medium-high flame. Brown the rabbit a few pieces at a time on all sides and set aside.
Reduce heat to medium, and carefully add the cognac or brandy (it may flame up).
Cook until its volume is reduced by about half.
Return the rabbit pieces to the pot and add the broth, wine, lemons, thyme, rosemary, allspice, juniper berries, cloves, bay leaf, salt and pepper. Bring to a boil then reduce heat to low and simmer, covered, for about 1 to 1 1/2 hours.
While rabbit is cooking, knead the butter and flour together with your fingers to form a smooth dough. You will use this to thicken the sauce.
When the rabbit is cooked through and tender, remove it to a serving dish. Strain the sauce through a fine sieve, discarding the solids. Stir the reserved bacon and shallots or onion back into the sauce. Add more stock or water if necessary to make about 2 cups.
Return sauce to a simmer on the stove and whisk a small piece of the butter and flour mixture into the sauce and return to a simmer. Keep whisking pieces into the sauce until it reaches a nice consistency. Adjust seasoning, pour the sauce over the rabbit and serve.
If you can't find or don't have juniper berries, substitute gin for the cognac. Gin gets its flavor from juniper berries.
Vinegar is sometimes used instead of the lemon to add a sour tang to the dish.