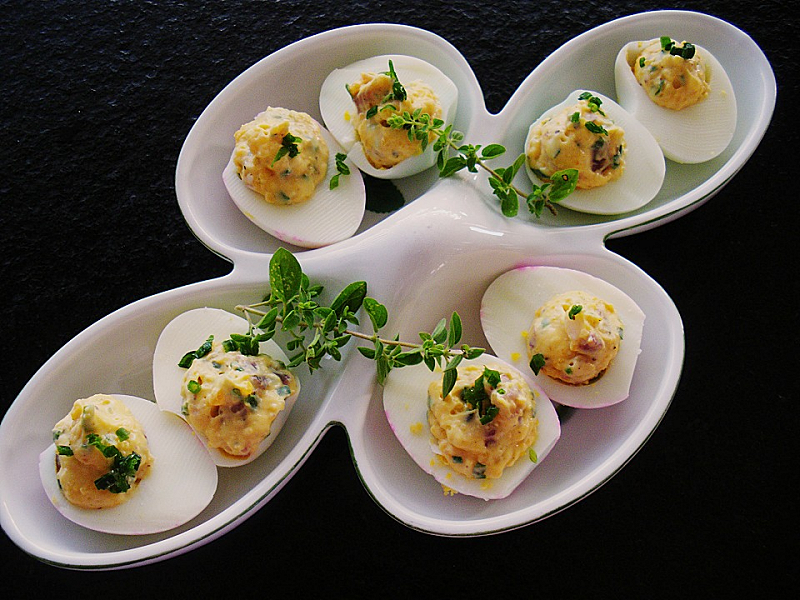 Ingredients
6 hard-boiled eggs
2 tablespoons mayonnaise
2 teaspoons Dijon mustard
salt and pepper to season
paprika to garnish
Directions
Halve the eggs and carefully remove the yolk. Set the whites aside, and add the yolks to a bowl, along with the mayonnaise, mustard, salt and pepper. Mash these ingredients together with a fork until smooth and creamy. Adjust seasoning to taste.
Scoop a little mound of the seasoned yolks into the eggs with a spoon. Or add the yolks to a pastry bag fitted with a star tip and fill the halved whites with a spritz of seasoned yolk.
Serve the eggs well chilled. A good way to keep them from sliding all over a serving platters is to set them in a bed of salad greens or fresh herbs like parsley or chives.
Filling Variations: Instead of mayonnaise, try using sour cream, remoulade, tartar sauce or even plain yogurt. To flavor the filling further, use different type of mustard, or add chopped shallots or scallions, some curry powder or a drop or two of hot pepper sauce. You can also mixed in some drained canned tuna or crab.
Garnish Variations: Top each egg with a caper, herb sprig, caviar, smoked salmon, anchovy roll, cube of ham, or sliced olive round. Sprinkle with chopped fresh parsley, dill or chives instead of the paprika.