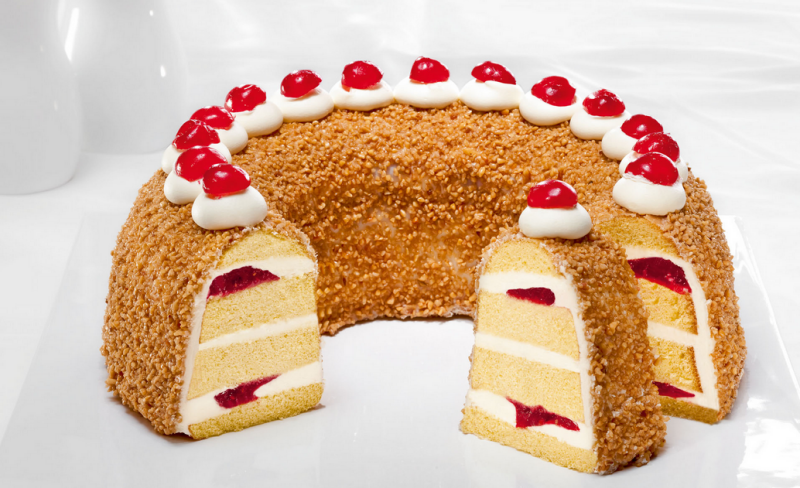 Ingredients
2 eggs, separated
1 T. cold water
1/2 c. sugar
1 tsp. vanilla extract or a few drops of rum or butter flavoring.
1/2 c. flour
1//3 c. cornstarch or potato starch (40 g.)
1/2 tsp. baking powder
2 T. butter
2/3 c. sugar
3/4 c. nuts, chopped (hazelnut, almond, peanut, or other)
1 package vanilla pudding, about 3 ounces
1 1/2 c. milk
10 T. butter
2 T. sugar (30 g.)
1/4 tsp. vanilla or rum extract
Red jelly
3 – 4 candied cherries (optional)
Directions
Beat egg whites with water on medium speed until foamy in a mixer bowl. Increase to high speed and beat while adding the sugar a little at a time until the meringue is stiff and white, 4 – 5 minutes. Scrape the bowl as necessary.
Remove the meringue to another bowl and add egg yolks to the mixer bowl. Beat on high until light yellow and fluffy. This should take about 3 – 5 minutes.
Pour the egg yolks over the egg white meringue, add the flavor extract and fold carefully a few times.
Sift the flour, starch and baking powder over the egg mixture and continue to fold until all the flour is incorporated. Do not over mix.
Butter the bottom, but not the sides of a 3-cup pan. The most traditional form has a hole through the middle (angel food cake pan or springform with special insert, but some people choose to bake this in a small loaf pan. Spoon the batter evenly into the pan and smooth the top.
Bake at 350°F for 25 minutes or until set. Cool completely, then frost and garnish as follows.
Chop the nuts fine. Toast them as necessary in a 350°F oven for about 5 minutes. May be used raw.
Melt the butter in a pan and add the sugar. Stir and cook over medium high heat until the sugar begins to melt.
Keep stirring until the sugar is melted completely and the sugar turns light brown.
Add the nuts, stir. Remove from heat.
Spread the candy on an oiled cookie sheet. Use only a spoon, not your hands, as the candy is very hot.
Cool the candy, then chop into small pieces on a cutting board and store in an airtight container.
Make the pudding according to package directions using only 1 1/2 cups of milk. Do this the night before or early in the day you plan on making the cake.
Cover the top of the hot pudding with wax paper so no skin forms on the pudding. Let it cool to room temperature.