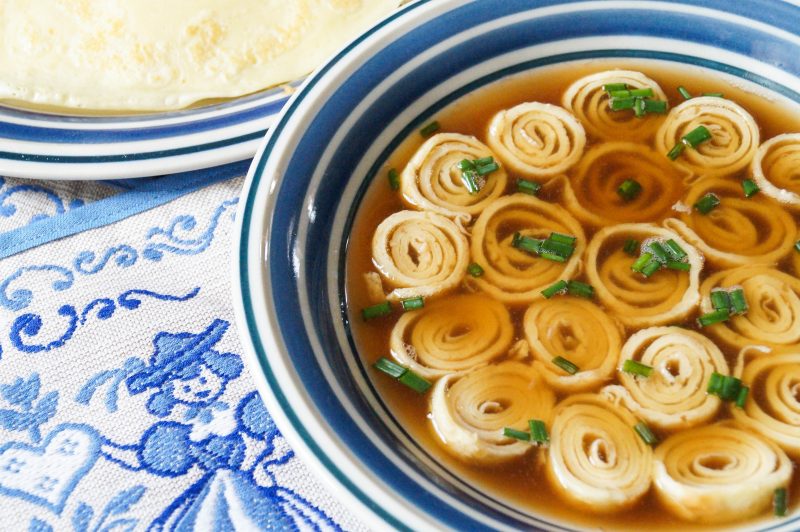 Ingredients
1 quart broth
1 cup matchstick-cut, vegetables such as carrot, celery,
celeriac or leeks (optional)
2 tablespoons chopped fresh herbs such as parsley, chives, celery leaves or other
Salt, to taste
Pepper, to taste
1/2 cup – all-purpose flour
1/3 cup potato starch
1/2 teaspoon salt
1 large room-temperature egg
1 cup club soda or other sparkling water
A piece of bacon or onion for rubbing the pan (optional)
Directions
For the soup: Heat 1 quart broth. Add salt and pepper to taste.
Lightly steam matchstick vegetables, if using.
For the pancakes: Sift together the flour, potato starch and salt.
Beat the egg with the club soda and then add the liquids to the flours and mix well or whisk until smooth.
Let the batter sit for 1/2 hour.
Rub the inside of a frying pan or crepe pan with the bacon (Schwarte) or onion for flavor (optional).
Heat butter lightly.
Mix batter again, briefly.
Pour 1/3 cup batter into the hot pan and tilt pan to make a large circle.
Fill in any holes by pushing some batter around with the back of a spoon.
Flip pancake over when set and cook briefly. Do not brown very much.
Repeat with the rest of the batter to make 6 pancakes. As they come off the heat, roll them up into cyliders to cool. They do not stick together that way. Cut them crosswise into into 1/4-inch strips with a sharp knife.
Place pancakes in individual hot bowls. Ladle broth over pancakes. Garnish with steamed vegetables and sprinkle with up to 2 tablespoons chopped herbs. Serve.