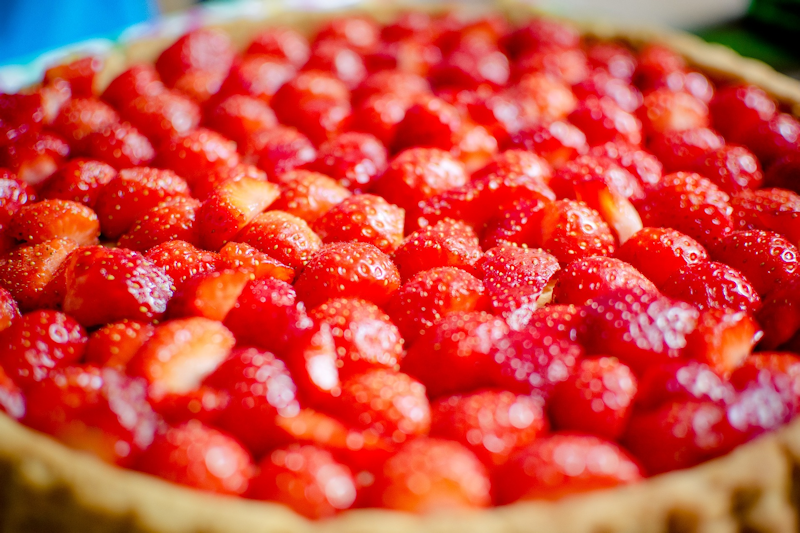 Ingredients
For the cake:
4 Eggs

200 gr . Flour

200 gr . Sugar

1 Tablespoon Vanilla Sugar

1/2 Tablespoon Baking Powder
For Custard:
1 cup whole milk
1/4 cup sugar
1/2 vanilla bean split lengthwise, seeds scraped
Pinch of salt
2 large egg yolks
1/8 cup cornstarch
1 tablespoon unsalted butter
Cake Assembly
2 pints fresh strawberries washed, de-stemed, and sliced into thin slices

1 package of strawberry flavored gelatin

Directions
For the cake
Gather all ingredients and equipment.

Preheat oven to 350 degrees Fahrenheit.

Whip together the eggs, sugar, and vanilla sugar in a stand mixer with whip attachement.  Whip until light and fluffy.

Sift flour and baking powder together.  Fold dry ingredients with a whick into the whipped eggs and sugar.

When I make this cake I like to use the Pampered Chef 10″ Nonstick Torte Pan, as there is a slight dip in the pan to help form a crust around the custard filling.

Grease and flour the pan.

Pour the batter into the prepared pan and bake on the middle shelf for 15 minutes or until golden brown.

Allow to cool.
For Custard:
In a medium saucepan, combine milk, 1/2 of the sugar, vanilla bean and seeds, and salt. Cook over medium heat until mixture comes to a simmer.

In a medium bowl, whisk together egg yolks, cornstarch, and remaining sugar. Whisking constantly, slowly pour the hot-milk mixture into the egg-yolk mixture, until it has been incorporated. Pour mixture back into saucepan, and cook over medium-high heat, whisking constantly, until it thickens and registers 160 degrees on an instant-read thermometer, about 2 minutes. Remove and discard vanilla bean.

Transfer to a mixing bowl. Add the butter, and whisk well until the butter melts and the mixture cools, about 5 minutes.

Cover with plastic wrap, pressing it directly onto the surface of the pastry cream to prevent a skin from forming. Refrigerate until chilled, at least 2 hours or up to 2 days.

After cake has cooled, you will be making a well for the custard to go into.  Be sure to leave about 1/2 inch of cake to form a a bottom crust.  Once hollow, place the pastry cream into the cake leaving 1/4 inch free from the top.  Be sure it is smooth and level.  Layer slices of fresh strawberries starting from the outside in.

Follow the prepartion insturctions of the strawberry gelatin.  Allow to cool to 65-70 degrees and spoon over the strawberries.  You have to let it cool so the gelatin will be on top of the strawberries and top of cake, not all over the plate or bottom of cake.

Place directly into the refrigerator to set for at least 2 hours or until gelatin has completely set.