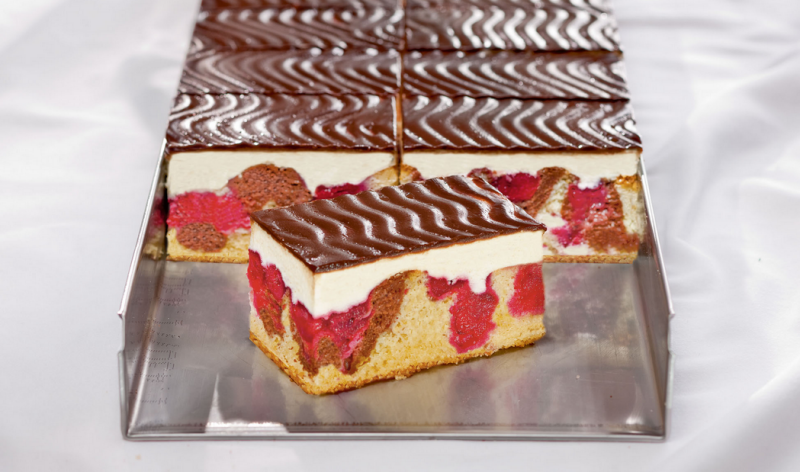 Ingredients
1 1/4 cups unsalted butter, softened
1 1/3 cups granulated sugar
5 eggs
3 cups cake flour
3 teaspoons cocoa
1 tablespoon milk
1 (36 ounce) can tart cherries, pitted
1/2 cup granulated sugar
3 tablespoons cornstarch
1 3/4 cups milk
1 (4 ounce) packagecook and serve vanilla pudding mix
1/3 cup sugar
1 cup unsalted butter, softened
4 ounces semisweet baking chocolate, melted
Directions
Preheat the oven to 375 degrees F.
Grease a 12 x 8 pan.
Beat the butter, eggs and sugar together until sugar is dissolved.Add the flour.
Spread half of the batter into the pan.
Add cocoa and milk to remaining batter, mix well and spread over the top.
Bake for 30-40 minutes until done.
Let cool for approximately one hour.
For Filling: Drain the cherries, saving 1 cup plus 2 tablespoons of the juice. Heat the juice, sugar and cornstarch slowly, stirring constantly. Add the cherries.
When the mix has thickened, set aside to cool.
Cook the pudding according to the package directions with the milk and sugar.
Let cool to room temperature.
Beat the butter until creamy and add the pudding spoon by spoon while beating Let rest a few minutes.
Assembly: Spread the cherry mix on top of the cake and cover with the cream.
Drizzle melted chocolate over the top.