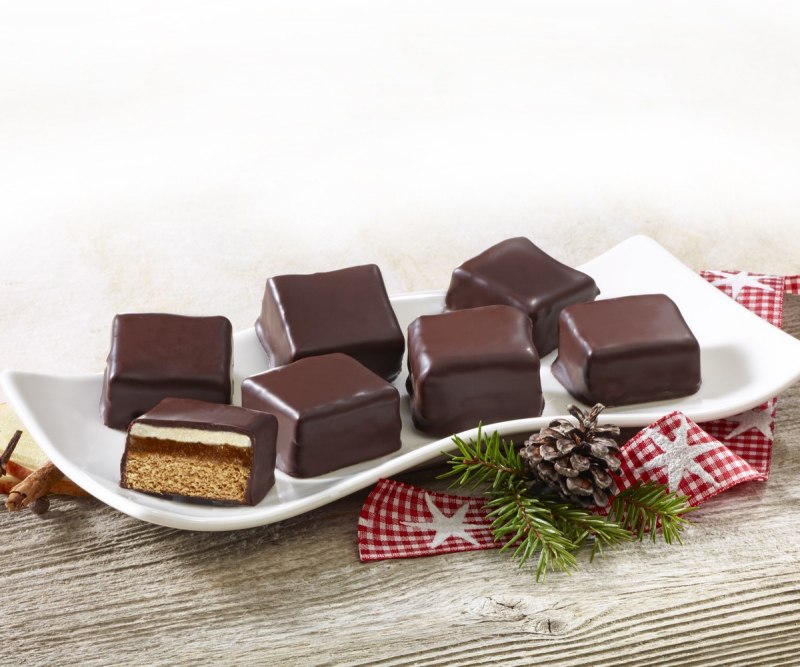 Ingredients
     For the ginger bread layer:
4.6 oz. (130g) liquid honey
1/8 cup (30g) sugar
4 tbsp. (40g) butter
3.5 oz. (100g) semi-sweet chocolate
1 1/4 cups (150g) all-purpose flour
1 tsp. ginger bread spice
1 1/2 tsp. baking powder
pinch of salt
1 egg

For the jelly layer:

6 leaves gelatine
21 oz. (600g) quince jelly
4 tbsp. fresh lemon juice

For the marzipan layer:

1 cup (100g) walnuts halves
7 oz. (200g) marzipan
4 tbsp. rum

For the decoration:

17.6 oz. (500g) semi-sweet chocolate coating
1.8 oz (50g) white chocolate coating
Directions
Preheat oven to 360 F. Grease rimmed cookie sheet (about 14 " x 17″)
Heat honey, sugar, and butter in a saucepan until sugar and butter are melted, stirring constantly. Let cool.
Mix flour, spice, cocoa, and baking powder together and set aside.
In a large mixing bowl, beat together the eggs with the rum. Add the cooled honey mixture. and mix. Slowly add in flour mixture and mix until smooth.
Spread dough onto cookie sheet, appoximately 1/2 inch thick. Smooth top.
Bake for 20 – 30 minutes, or until wooden toothpick inserted in center of cake comes out clean.
Let cool.
Knead marzipan with 1/3 cup icing sugar and rosewater or almond flavoring. If too soft, add a bit more icing sugar.
Roll out marzipan mixture between two layers of plastic wrap until it is the size of the cake.
Cut the cake horizontally to make two layers.
Brush bottom layer with jelly or marmalade.
Cover with marzipan.
Brush jelly or marmalade over marzipan layer.
Cover with top cake layer.
Cut into 1-inch (approx.) squares.
In a double-boiler, melt chocolate and mix with 1 cup icing sugar, water or milk, and butter.
Dip "dominosteine" in chocolate and let set on cookie rack until chocolate has hardened.
These dominos taste best after sitting several days in a well sealed container.