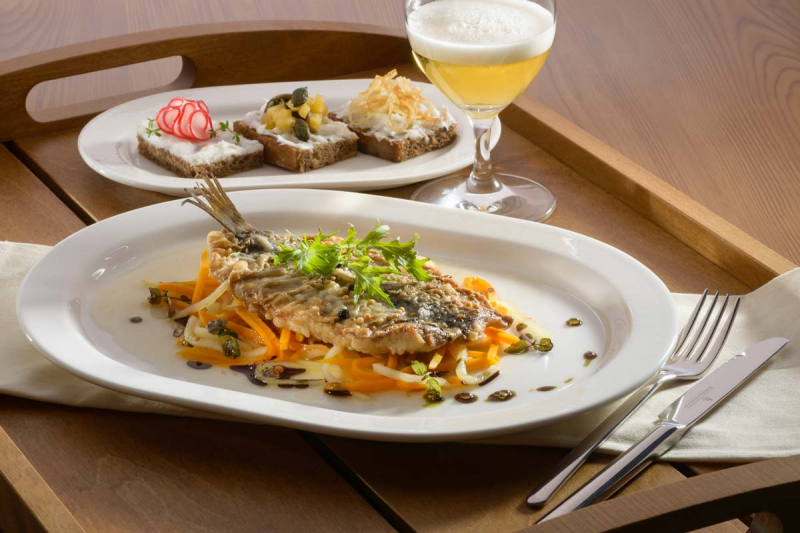 Ingredients
8 fresh herring
Salt to season
4 teaspoons of flour
2 large onions cut into rings
1.8 oz. of mustard seeds
About 10 pepper corns
1 large bay leaf
1 teaspoons of salt
8.5 floz vinegar (white 10%)
8.5 floz water
2 teaspoons of fat or oil for frying
Directions
Trim de-head and clean the fish
Dry and rub with salt. Now dredge in flour making sure all the fish is covered.
Do them two at a time if your pan is not large enough.
Carefully remove from the pan and keep warm in a single layer in a large dish.
While the fish are cooking make the marinade put the water in a saucepan.
With the onions, peppercorns, bay leaf, salt and mustard seeds.
Bring to the boil after a couple of minutes add the vinegar
Bring to the boil and immediately remove from the heat
Let it cool a little and then pour over the herring to cover.
Let the fish fully cool down in the marinade, they can now be eaten but they taste a lot better if you leave them in the marinade for at least 3 days, this allows the marinade to soak right into the fish. If the fish are really large leave them another day or two. If they are kept covered and stored in a cool place they will keep at least two weeks.
You would eat these with new potatoes (Pellkartoffeln) with melted butter poured over them or my favourite fried potatoes with smoked bacon pieces and onions (Bratkartoffeln mit speck und Zwiebeln) and a cucumber/dill salad (gurkensalat).