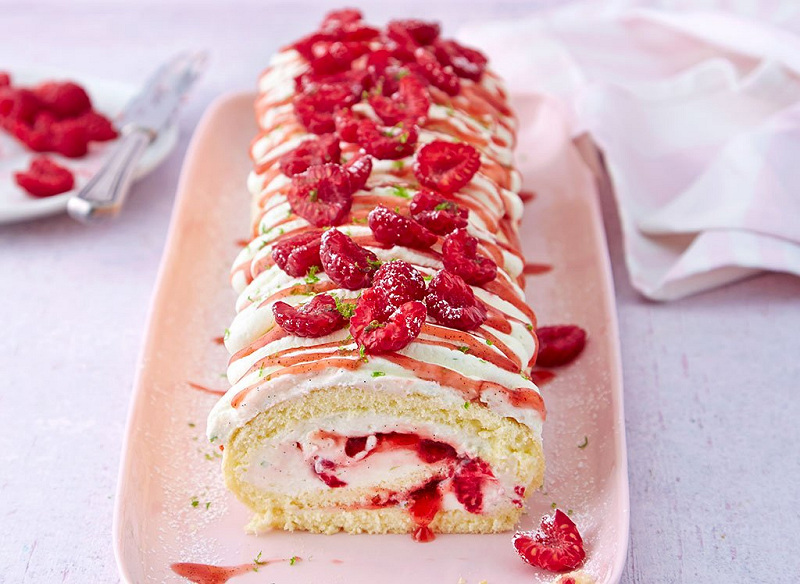 Ingredients
3 large eggs, separated
½ cup granulated sugar
¾ cup all purpose flour
3 Tbsp corn starch
1 tsp baking powder
1 cup whipping cream
1 package Dr. Oetker Sahnesteif (whipping cream stabilizer)
1 – 2 tsp powdered sugar, sifted (according to taste)
1½ cups prepared fruit
Directions
Line a rimmed baking sheet (15″ X 10″) with parchment paper.
Preheat oven to 400° F.
In a small bowl, mix together flour, corn starch, and baking powder, and set aside.
In a separate bowl, whip egg whites with 3 Tbsp water until stiff. Slowly whip in ½ cup sugar. Gently stir in egg yolks. Fold in flour mixture.
Spread batter on paper-lined cookie sheet.
Bake 8 – 10 minutes until wooden pick inserted in centre comes out clean.
Place sheet of waxed paper over damp cloth towel. Sprinkle with a bit of sugar.
Turn out cake onto waxed paper and peel off lining paper. Trim cake edges if needed.
Roll up (lengthwise) cake and waxed paper together. Set aside to cool.
Beat whipping cream,  Sahnesteif (or Whip It), and powdered sugar until stiff.
Mix fruit with whipped cream.
Unroll cooled cake. Brush with jam if desired.
Spread with fruit/cream mixture. Roll up, using waxed paper to lift cake.
Sprinkle with additional powdered sugar.