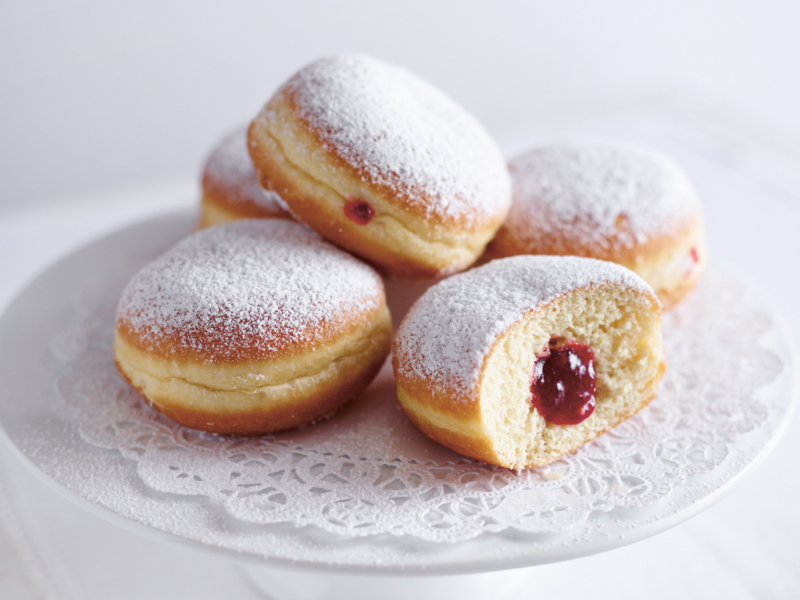 Ingredients
1 cup milk shopping list
3 tablespoons unsalted butter
1 package rapid rise dry yeast
3 tablespoons sugar
3 egg yolks, slightly beaten
3 1/2 cups (1 pound) cake flour
1/2 teaspoon salt
Fat for frying, such as canola oil
10 ounces raspberry jam
2 cups confectioners' sugar
Directions
In a small saucepan, scald the milk by heating just until bubbles form around the edge of the pot; the milk should not actually boil.
Remove from heat and whisk in butter to melt, allow to cool 10 minutes. Transfer the mixture to the bowl of a standing mixer fitted with a dough hook.
Sprinkle the yeast over the warm milk and butter. Add the sugar and stir gently to dissolve.
Let stand 10 minutes until foam appears, this indicates the yeast is active.
Turn mixer on low and add the egg yolks then gradually add the flour. When the dough starts to come together, increase the speed to medium and add the salt. Stop the machine periodically to scrape the dough off the hook. Mix just until the dough is supple and elastic, about 5 minutes.
Once smooth, turn dough out on a lightly floured surface and knead gently for 2 minutes. Place the dough in a greased bowl, turning to coat all sides. Cover with plastic wrap and let rise until doubled in size, about 1 hour. If you have time, let rise in the refrigerator for several hours because chilling will make the dough easier to roll out.
Roll the dough out on a lightly floured surface to about 1/2-inch thick and cut with a floured biscuit cutter or water glass, about 3-inches in diameter. Transfer to a greased baking sheet, and allow to rise again for 30 minutes.
Heat 3-inches of vegetable oil or shortening to 375 degrees F in an electric fryer or deep saucepan. Slip doughnuts in the hot oil, top-risen side down, and fry doughnuts until golden, about 4 minutes each side. To keep the oil temperature constant, fry 3 at a time.
Drain on paper towels.
Fit a pastry bag with a small tip and fill with jam. Poke a small hole in the side of the doughnut and pipe the jam inside. Dust heavily with confectioners' sugar while still slightly warm.