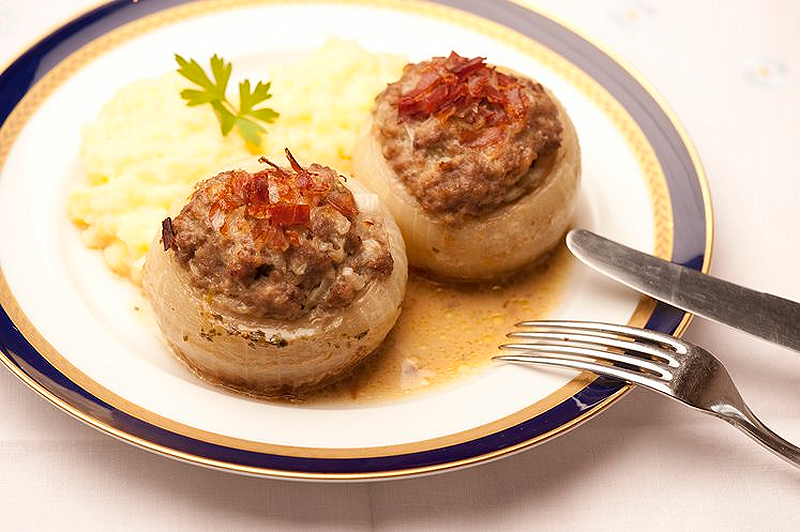 Ingredients
4 – 6 large, mild onions or Bamberger onions
Butter
2 T. fresh, chopped parsley
1 tsp. dried marjoram
20 oz. ground pork
2 eggs
2 hard, white rolls (or bread crumbs) soaked in milk
1 tsp. salt
1/4 tsp. freshly ground pepper
1/8 tsp. freshly ground nutmeg
2 c. vegetable broth
1 bottle of Rauchbier or Kellerbier
2 T. flour
4 – 6 slices bacon or Räucherbauch
Directions
Cut the root-end off the onion so that it will stand flat in a pan. Peel the dried skin. Cut off the cap of the onion and hollow out the middle to leave a half inch wall.
Chop the onion centers into small dice. Saute them in butter until translucent and sprinkle with chopped, fresh parsley and marjoram.
Add the onions to the ground pork, the eggs and the milk-soaked rolls. Mix together with your hands, breaking up the rolls and adding salt, pepper and nutmeg to taste.
Fill the hollowed-out onions with the pork mixture, mounding as necessary. Place the onions in a Dutch oven or deep, oven-proof pan with a lid. Add 1 – 2 cups of broth, cover the pan and bake at 350°F for 45-60 minutes.
Add more broth if necessary.
Pour the beer over the onions and bake with a lid for another 30 minutes or until the onions are soft.
Carefully remove the onions from the Dutch oven and place to the side.
Stir some cold water into 2 tablespoons of flour. Pour this thin paste into the broth while stirring constantly. Bring to a boil to thicken. Cook for several minutes to remove the raw-flour taste. You may also use an instant flour such as Wondra and follow the package directions to thicken a sauce or gravy. Season to taste with salt and pepper.
Cook the bacon slices or dice and cook the bacon until crisp. Drain and garnish the onions with the bacon.
This stuffed-onion dish is traditionally served with sauerkraut and "Stampfkartoffeln" (or "Kartoffelbrei"), which are mashed or pureed potatoes.