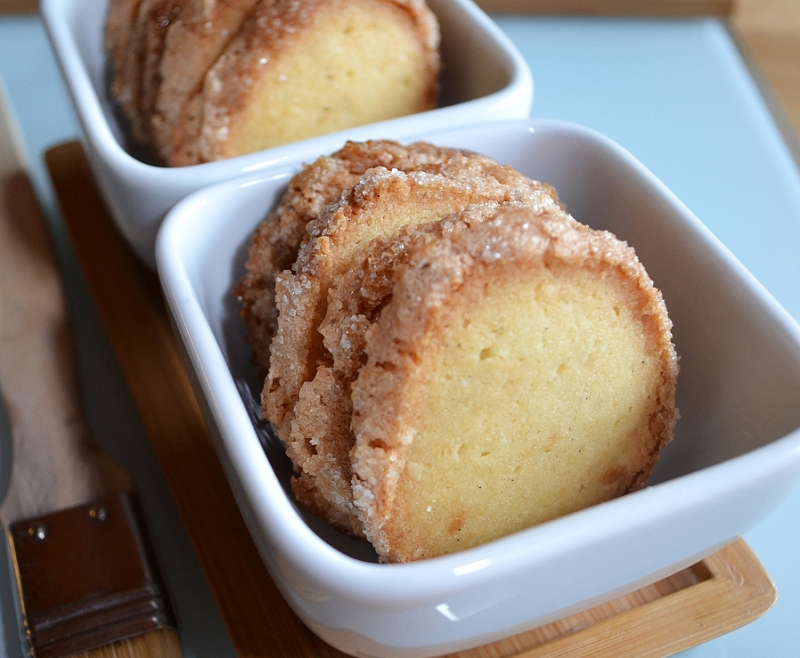 Ingredients
12 sticks (1 cup) unsalted butter
1 cup white granulated sugar
2 tablespoons milk
1 teaspoon quality pure vanilla extract
2¾ cups all-purpose flour
½ teaspoon baking powder
¼ teaspoon salt
Pearl sugar for rolling
Directions
Melt the butter in a small saucepan over medium heat, whisking frequently as the butter comes to a simmer.
Browned specks will appear at the bottom of the pan. Whisk constantly until the the butter reaches a rich brown color.
Note: The butter will burn very quickly at this stage so be careful. Once the butter is a rich brown at the bottom of the pan, remove from heat and let cool completely.
Once cooled, pour the butter in a large mixing bowl and beat until frothy. Add the sugar, milk and vanilla extract and beat until combined.
In a separate bowl, combine the flour, baking powder and salt. Add the flour mixture to the butter mixture and beat until the mixture resembles coarse sand.
Use your hands to form the mixture into a mass. The dough will be very dry and brittle. Turn the dough out onto a clean work surface and squish the dough to form two logs about 1-inch in diameter. The dough will be crumbly, keep working at it to form the logs (see pictures in this post for reference). Wrap them in plastic wrap and refrigerate overnight.
Preheat the oven to 350 degrees F.
Slice the chilled dough into ¼ inch thick rounds. Roll the edges of each cookie in pearl sugar and place on a lined cookie sheet. Bake for about 15 minutes, turning the cookie sheet around halfway into it to ensure even baking. Bake until the edges of the cookies are just barely beginning to turn golden. Let the cookies sit on the cookie sheet for a couple of minutes before transferring them to a wire rack to cool completely.
Store in an airtight container.